Amazon Kindle Fire 2 Review
4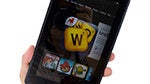 Introduction:
Back for round two, the true successor to Amazon's flagship tablet is finally here in the form of the
Kindle Fire (2)
, coming with upgraded processor, memory and battery but otherwise identical to the original model. Tempting consumers with its attractive and lower price point of $159, it's sure to raise a few suspect eyes in the process, but will it still be substantial enough to make it a worthwhile offering compared to its more impressive sibling in the
Kindle Fire HD
?
Design:
New model, same design as before. That pretty much sums up the Amazon Kindle Fire 2, as it's an exact facsimile to its predecessor in every aspect – both in its construction and choice of materials. Certainly, we can't expect much in the design front, especially for its price point and all, but hey, it's easier to grasp with one hand than the Kindle Fire HD.

Analyzing its body meticulously from head-to-toe, it's safe to say that it has one clean appearance – with only its two speakers, power button, 3.5mm headset jack, and microUSB port occupying
its sides
.
Worth pointing out, there's no expandable memory or microHDMI port with the Amazon Kindle Fire 2, which isn't too surprising at all.
Display:
Employing the same
7" IPS LCD display
as the first generation, it's effective enough for most things – such as reading a book or surfing the web. Even though we're seeing higher resolutions on other 7-inch displays, the Kindle Fire 2's
1024 x 600 resolution
still coughs up enough detail for us to comfortably view fine text. Even though we like its neutral color production, there's some distortion at various viewing angles. Additionally, outdoor usage is challenging, seeing that it has a tendency to appear washed out.
Recommended Stories