Amazon's best-selling Fire tablet is cheaper than ever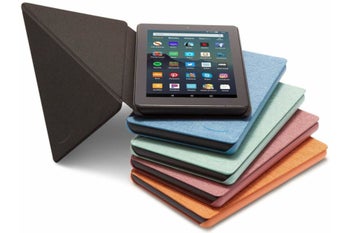 Considering how much they cost, it's no surprise that Amazon's Fire tablets are selling like hotcakes. However, even a great product becomes obsolete after a while, so an upgrade might make things right again for consumers. The
all-new Fire 7 tablet
successfully replaced Amazon's best-selling Fire tablet and continues to sell very well thanks to the low price.
The all-new Fire 7 tablet offers twice the storage of the predecessor and comes in four different color versions: Black, Plum, Sage, and Twilight Blue. All four are available for purchase via Amazon for $50.
For a limited time, customers are offered a 20% ($10) discount on any of the four-color version of the all-new Fire 7 tablet. On top of that, those who buy two Fire 7 tablets will also receive $10 Amazon credit upon activation.
The deal is available for the 16GB model that comes with "special offers," but if you feel like you need more storage, you can pick up the 32GB Fire 7 which is $10 off. Now, what exactly "special offers" means and how does it affect you?
If your Fire tablet includes Special Offers, you'll receive sponsored screensavers and special offers, including personalized advertising, from Amazon directly on your device. You'll be able to see them as a screensaver when your Fire 7 tablet is in sleep mode, but for the latest offers, your device must be connected to Wi-Fi.