Amazon Appstore's first anniversary brings a huge week-long app sale, free Kindle Fires
6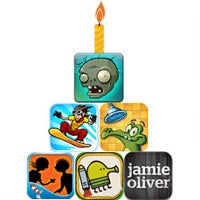 The Amazon Appstore turns one year old today and the etailer offers you to celebrate too by slashing the prices on a bunch of the most popular apps.
Amazon also released some interesting details about the Appstore growth. It all started last year with 4,000 apps and lawsuits from Apple, and today things are quiet and thriving at the Appstore which can brag about having over 31,000 applications.
But you came here for the discounts, didn't you? So there you have it - a list of some of the apps that will come with a reduced price for a week:
- Fruit Ninja
- Wolfram Alpha
- Splashtop Remote Desktop
- Dr. Seuss's The Shape of Me and Other Stuff
- TuneIn Radio Pro
- TETRIS
- PAC-MAN
- The Lost City
- MONOPOLY
- AccuWeather Platinum
- Jamie Oliver's 20 Minute Meals
The discount plan is a bit tricky - first, today Plants vs Zombies goes for 67% off to $0.99. Tomorrow, two apps will go on sale, on the third day three apps will be discounted and so on.
But that's not all, folks - Amazon is also giving away eight Kindle Fire tablets for free in sweepstakes by March 31st.
Here are the rest of the statistics Amazon shared:
- The Appstore's most downloaded application was Cut the Rope, followed by Angry Birds and Where's My Water?
- Each day the Appstore offered 1 paid application for free. If you never missed those promos, you have saved $1,000
- the Amazon Appstore allows you to test drive an app. Users spent 7,700,000 minutes test driving applications
- Games are the most popular app category followed by entertainment and productivity
Hit the source link below for even more details about the growth of the Appstore over the last year.