Amazon Appstore possibly opening doors to European customers this summer
1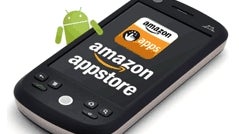 Rumor has it that the
Amazon Appstore will soon welcome European customers
, putting an end to its U.S. exclusivity. Word comes from sources familiar with the company's plans, reports
AllThingsD
. No specific release date has been stated, but the store's launch in Europe is likely being planned for this summer, with an official announcement regarding the matter expected to be made as soon as next week.
Last time we checked,
profits from the Amazon Appstore were holding steady
, so expanding the user database makes quite a lot of economic sense. Yet more interestingly, it is speculated that a launch of the Amazon Appstore in Europe would indicate that the
Kindle Fire
is headed to the Old Continent as well. The tablet, which is offered by Amazon only in the U.S., was selling pretty well at first, yet recently, sales figures have been steadily declining. That is why offering the device across Europe seems like a wise move. At the same time, doing so would bring more users into Amazon's ecosystem, exposing them not only to the applications that the Amazon Appstore contains, but also to books and other digital content that can be purchased.
Of course, the above is but a speculation, so it is too early to celebrate. We hope to get an update on the matter before the next week is out.