Alcatel OneTouch Fierce XL brings Win 10 on a budget to T-Mobile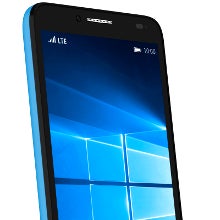 On the fence about Windows 10 Mobile because of the excellent but pricey
Lumia 950
and
950 XL
? Well, Alcatel has got you covered at this CES 2016 expo, announcing a phone that kills two "firsts" with one stone. First off, the
ONETOUCH Fierce XL
is the company's Win 10 Mobile cameo. Second, it's T-Mobile's first effort to offer Microsoft's new mobile OS, since the two Lumia posterkids were given exclusively to AT&T, as CEO John Legere clarified on Twitter when they launched. Needless to say, the phone supports T-Mobile's specific 4G frequencies, VoLTE, and T-Mo's Wi-Fi calling option.
Anyways, the Alcatel ONETOUCH Fierce XL with Windows 10 is not as formidable as its name suggests, but actually a rather timid device, at least when it comes to specs. A 5.5" HD LCD panel adorns the front, and a basic quad-core Qualcomm Snapdragon 210 CPU powers through the small requirements of Win 10 Mobile. Alcatel graced the device with 2 GB of RAM, and provided a microSD card slot to expand on the 16 GB of internal storage, if needed. An 8 MP camera takes care of your photographic needs, while the selfie urges can be satisfied by a 2 MP frontal shooter. A 2500 mAh battery with up to 14 hours of talk time and 820 hours of standby time rounds up this pretty offering.
FEATURED VIDEO
It is very apparent that Alcatel is just testing the Windows waters with the Fierce XL, yet it still manages to offer a decent phone in jolly colors for the polycarbonate rear, and kept the pricing commensurate with the handset's abilities when it comes to hardware. At $150, we can imagine that T-Mobile won't have many problems moving some of those Alcatels to folks curious to try out Windows 10 Mobile on a budget, or simply looking for a basic handset that does the job, what do you think?
Alcatel OneTouch Fierce XL with Windows 10