Alcatel 7 goes official with dual camera, big battery, and affordable price tag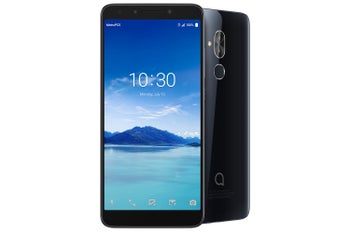 There's always space to fit in yet another affordable humbly-specc'd device on the smartphone scene. Such is the case with the spanking-new Alcatel 7, a rather affordable Android device that just got announced as a MetroPCS-exclusive phone. It will cost $179.99 outright, $129 with a new line of service or a qualified upgrade, and finally, you could even snatch it for free should you port-in credit on an unlimited data plan.
For starters, the company has resisted the mindless drone's mentality of adding a notch on the display for no apparent reason, which is commendable.

Although the phone looks slightly less modern than some contemporary affordable rivals, the bezels of the 18:9, 6-inch FHD+ display are quite stomachable and make up for a good, symmetric appearance which is a rarity these days. The glossy 2.5D glass at the back is, however, a loud call to the design trends these days.

Powering the Alcatel 7 is a 2.5GHz MediaTek MT6763T processor aided by 2GB of RAM, 32GB of storage, and a microSD card slot. At the back, a humongous 4,000mAh battery will definitely keep the phone going strong for a while. Thankfully, an unspecified quick-charging solution has been employed as well, giving you 6 hours of usage after 22 minutes of charging. In terms of security, the Alcatel 7 relies on a traditional fingerprint scanner and the trendy-of-late face unlock.
On the camera front, we've got a 12MP main rear camera aided by a 2MP unit, most likely to infer depth information for portrait pics. At the front, an 8MP camera with flash will be taking care of your selfies.
As we already mentioned, the phone will be a MetroPCS-exclusive right now, up for grabs for $179.99 or less provided that you qualify for certain rebates.

source: Alcatel