Alarm Clock Ultra is the Swiss knife of alarm clocks for Android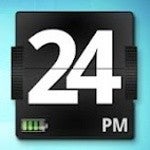 Alarm Clock Ultra
is one of the best relatively new additions to Android's Google Play – it gives you plenty of options to customize your alarms, but its depth doesn't affect its simplicity. You can easily set up a timer for a quick nap, or also add custom alarms. If you want to be sure you won't somehow magically turn that alarm off and continue to sleep, Alarm Clock Ultra is bringing a little extra torture in the mornings asking you to solve puzzles in order to hit the off or snooze button.
There's also the usual timer and stopwatch, both of which look very nice, with clear, big buttons that you can easily hit. There's even an egg timer!
Along with all the clock features, you also get weather updates that are pushed directly to the Nightstand, and you can also see your Facebook and Twitter feed updates at the top.
The topping on the cake is the awesome selection of 25 relaxing melodies and sounds, and widgets. It all costs $3 for an ad-free version.