Acer preparing Iconia B1 successor and an affordable 10 incher this summer
5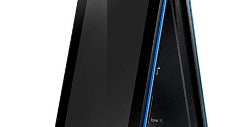 Acer is preparing a successor to its ultra-affordable Iconia B1 tablet and the company is rushing to release it earlier than expected. Acer is planning to deliver the second generation Iconia B1 around June, pushing it ahead of the initial end of the year release schedule.
Acer is also moving towards mass volume production of its 10-inch affordable tablet in the summer. Acer's 10 incher was allegedly earlier planned for the fourth quarter of the year. All of this information comes courtesy of Taiwanese publication DigiTimes' supply chain sources.
The company launched its $150 Iconia B1 earlier in 2012 pushing the price envelope for 7-inch tablets further down after the $200 Nexus 7.
Now that rumors are flying for a second generation Nexus 7 arriving this summer, Acer is allegedly rethinking its schedule to match up the competition. Acer is said to be planning to release an affordable 10-inch tablet running on a MediaTek chip in August.
source:
DigiTimes