Acer: No Windows Phone without larger market share
83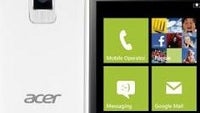 At MWC, Microsoft announced several new manufacturers joining the list of companies that would be making Windows Phone devices. Acer, a company that used to have a Windows Phone model, the
Allegro
, was not one of those companies.
Despite having a robust line of Windows based tablets (and of course PCs), Acer has kept its distance from Windows Phone for a couple years now. From the looks of things, that is not going to change anytime soon.
Saying that it "can't take the risk" on Windows Phone, Acer cites a lack of consumer demand and a poor selection of applications. "The Windows Phone Store is improving. But if there are 350,000 apps and it doesn't include the top 100, then it's no good for consumers. For example, if you don't have the local banking aps, then it is a naught to certain people."
Another area that Acer is not keen on Windows Phone is with regards to market share. Despite the growth, the current share in Europe for example, about 7%, is not enough for Acer to commit. "We are having conversations with Microsoft, and if they index Windows Phone to 10 to 15%, we are interested."
While Acer's pensiveness is understandable to a point, the company runs the risk of losing out on the
groundswell that is Windows Phone's current growth rate
. Assuming that Microsoft meets its goals of seeing
its mobile OS exceed 15% market share by 2017
, the growth rate will have slowed considerably by then and with all the new players entering the market with their own Windows Phone devices, Acer may have trouble finding a seat at the table.
sources:
The Inquirer
via
Neowin