Microsoft's strategic thinking in its acquisition of Nokia Devices & Services
52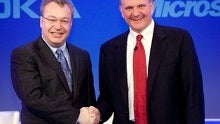 Microsoft published a 30 page PowerPoint presentation outlining the details of the deal which, assuming all goes according to plan, will result in Microsoft acquiring Nokia's Devices and Services unit for roughly €5 billion.
While there are sure to be many Nokia faithful that will be upset by this news, this may actually prove to be the single transaction that allows Nokia to continue as an on-going concern, through commercial services and its exceptional mapping product. Moreover, Nokia trims its overhead by adopting a licensing model, similar to how Qualcomm conducts its business. Indeed, Nokia is not going anywhere.
The Deal in Broad Strokes
Microsoft gets a lot out of the deal too. For starters it is acquiring a large talent pool that has dominated the Windows Phone ecosystem with uncompromising high quality equipment. €3.79 billion of the deal goes to buying the Devices and Services business unit itself along with some "key" patents. The other €1.65 billion grants Microsoft access to a "broad" set of intellectual property which Nokia will continue to own.
Where Microsoft really makes a score is with the patent arrangement. It gains over 8,500 patents directly in the deal, ownership of the Lumia and Asha brands and a ten-year license to use the Nokia brand on "feature phones." However, it also gains from Nokia "assigning" its relevant agreements with companies like Qualcomm, IBM, Motorola and others, streamlining Microsoft's patent agreements.
Crosshairs on Google and Apple
It is made clear throughout the presentation that Microsoft is gunning for Google and Apple. While Microsoft states that it will continue to support its products on iOS and Android devices. It also sees the possibility of Apple and Google being at the root of a foreclosure of "app innovation, integration, distribution, or economics." That is a valid concern and it is part of the problem that is starting to close in on BlackBerry on a consumer level.
Microsoft will counter the Apple and Google juggernauts with a "first rate Microsoft phone experience." The execution of the plan for this merger incorporates a vision that Microsoft will continue to position itself as an alternative to Google and Apple.
Why Phones?
Another interesting fact that can be drawn from the presentation is that Microsoft was netting less than $10 for every Nokia Windows Phone that was sold. The acquisition reverses that monetary arrangement and integrates research and development.
For the software purists, the performance of the Microsoft Surface tablet would have many asking, "why phones?" The company goes into depth here as well and even goes on to state outright that part of the reason is to protect the Windows Phone ecosystem by buying Nokia before someone else does (recall the rumors that Huawei could buy Nokia). Nokia is 80% of the Windows Phone market, and if another company were to acquire it and decide to make a switch to Android, that would be the end of Windows Phone in no uncertain terms.
Microsoft put its Money where its Mouth Is
Nokia Devices and Services is an established player, which means that hopefully Microsoft will not tinker with things too much and break a well-oiled machine. Nokia has done quite well rolling out a number of devices over the past year and that is something that Microsoft will want to keep at the ready if innovation is accelerated like it hopes it will be.
Then there is the age old motivator, money. Microsoft is betting that Windows Phone will have at least 15% of the market by 2017. That should equate to roughly $45 billion in revenue. Making that happen will be some 30,000-plus Nokia employees getting Microsoft ID badges along with Stephen Elop as the Executive VP of Devices at Microsoft.
The presentation was a fairly concise 30 pages and can be seen in its entirety via the source link below. For those that are less patient, we grabbed what are arguably the most pertinent slides. Yes, this is Microsoft's rationale and yes it can be said that it is one sided. For the Nokia fans there is arguably not another company that could be entrusted with the image that Nokia now has. For the Windows Phone fans, this is Microsoft going all-in and getting ready to go toe-to-toe with Apple on the devices front and confront Google when it comes to many services. Things just got a lot more interesting.
source:
Microsoft