Acer Iconia Tab A700 Hands-on Review
5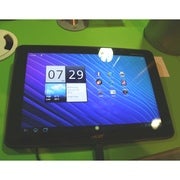 Back at CES 2012, we had the chance to spend some one-on-one time with the
Acer Iconia Tab A510
. Overall, we were quite happy with the tablet. Today, we have our hands on the
Acer Iconia Tab A700
, which should not be too different from its close relative, but it will be marketed as a more premium alternative to the Tab A510.
That is because the front of the Iconia Tab A700 is occupied by a
10.1-inch display
with the impressive resolution of
1920 by 1080 pixels
. It goes without saying that looking at it is a pleasure to the eye due to the amount of detail that the screen delivers. The striking colors and wide angles of view only contribute to the pleasant viewing experience. In terms of design, the Iconia Tab A700 is neither the slimmest, nor the lightest tablet we have ever played with, but it isn't bulky either, so we can live with the way it has been designed. Furthermore, the choice of materials does not make the device feel too premium, but with a display like that, would anyone really pay attention?
Inside the Acer Iconia Tab A700 we have a mighty
Tegra 3 quad-core processor
, which handles all computations without a hitch delivering a smooth
Android 4.0 Ice Cream Sandwich
experience. The modifications that have been done to the platform appear to be mostly superficial, and the widgets that Acer has included will surely come in handy.
In a nutshell, if you disregard the non-premium feel of the materials it is made out of, the Acer Iconia Tab A700 is a pretty good offering. It performs well and boasts a display that is a pleasure to look at. But, of course, whether it would really be a device worth picking will depend on how much it will cost once it hits the market.