Acer Iconia Tab A200 video promo surfaces: affordable 10-incher with a full-sized USB port
6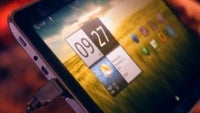 The Acer Iconia Tab A200 has just leaked out on a snowy video teasing you with a new Android way to spend the holidays with your loved ones and without getting out of bed. The Iconia Tab A200 looks like a standard 10-inch Android tablet, but there are a couple of things that make it stand out in the crowd.
The first one is the presence of a full-sized USB port and the second is its affordable price tag. How much? We don't yet know exactly, but whispers flying around say the retail price will be below $470 (350 euro) in Europe.
That will buy a Tegra 2 dual-core internals, a 10.1-inch display with a resolution of 1280 x 800 pixels and a microSD card slot. In terms of connectivity, Wi-Fi seems to be the only option on the A200, but Acer might also throw in a 3G-enabled model later on. The biggest question however remains the operating system. We're still not certain whether Acer is stuffing the A200 with Honeycomb or the latest of Android 4.0 Ice Cream Sandwich. We'll let you know as soon as we have more information available, but in the meantime let us know if the USB port and the price tag look tempting on this tablet?