AT&T's Android 4.3 update for HTC One gets certified; update coming next week
7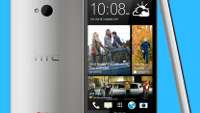 HTC America president Jason Mackenzie has been pretty active on his Twitter feed recently, and on Friday he tweeted out the word that Android 4.3 for the
HTC One
had passed AT&T's carrier certification test. According to the executive, this means that the update will be coming to AT&T's variant of the HTC One
early
next week.
This past week,
Sprint owners with the device received the update
while the prior week saw
the developer version of the phone and those units powered by Canadian carriers receive the Android 4.3 OS build
. The update will include improvements to Sense which will result in the addition of Instagram as a source for streaming updates on BlinkFeed, more video highlight capabilities and the ability to disable the on-screen menu button.
So now that Sprint and AT&T are spoken for, T-Mobile's HTC One is expected to receive the update in the middle of the month. And with its incessant testing, Verizon is like the fat kid in gym class who always finishes last in races. Big Red should be pushing out Android 4.3 to its version of the HTC One by the end of this month. Of course, Verizon was the last of the four major stateside operators to offer the phone, but is that really apropos to the timing of the update?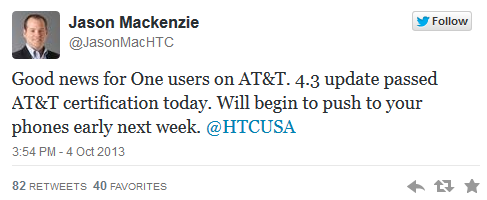 Tweet from HTC America's president says that the Android 4.3 update for AT&T's HTC One will be pushed out early next week
source:
@JasonMacHTC
via
AndroidCentral