AT&T unlocking iPhones could be an opportunity for T-Mobile, carrier says it's more affordable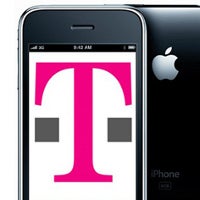 Yesterday, AT&T detailed the
easy, but long process of unlocking an iPhone
that has been purchased locked to the carrier, and that's
good news for... T-Mobile
. The nation's fourth largest carrier happens to be a GSM carrier just like AT&T, and this means that the unlocked iPhone could easily work on its bands.
T-Mobile is making the point that it's got more affordable plans, and users will be better off on its network. And this is partly true - T-Mo is the most affordable among the big four US carriers. You'd need to trade off fast data if you opt to go with it, though, as the iPhone doesn't support its AWS bands and will only work with snail-fast
EDGE
speeds.
At least you won't be alone - there's already over a million T-Mobile subscribers rocking an iPhone and making do with the speeds. And here's the statement from a T-Mobile spokesperson for 9to5Mac:
"Today we have more than one million unlocked iPhones running on our network. T-Mobile currently offers microSIMs for customers who already have a GSM phone they want to use on the T-Mobile network, including an iPhone. In order to set up an unlocked iPhone on T-Mobile's network, customers simply need to purchase a microSIM card and select a T-Mobile Value plan that suits their needs.
T-Mobile's Value plans enable customers who bring their own smartphone, such as the iPhone, to save money. For example, T-Mobile's Value family plan with unlimited talk, unlimited text and unlimited data with 2 GB of high-speed data is just $49.99 per line for two lines.
In addition, we will continue to deliver more value to customers as we expand and modernize our 4G network. Beginning this year, we will introduce HSPA+ service in our 1900 MHz PCS spectrum. When we do, our 4G network will be compatible with a broader range of devices, including the iPhone."
It all boils down to affordability and optimism about the future. It seems that the new iPhone with LTE should finally support T-Mobile's network. But would you move your service to T-Mobile with the iPhone data speeds it supports now? Have your say below.