AT&T says its launch of Nokia Lumia 900 to be its biggest ever, even surpassing the Apple iPhone's release
62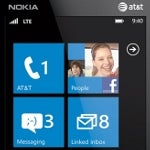 AT&T has announced that it will
launch the Nokia Lumia 900 on April 8th
for $99.99 with a signed 2-year pact. According to Jeff Bradley, the carrier's device head, this will be the biggest launch in AT&T history which means it will surpass the cost of each of the prior 5 launches for the Apple iPhone.
Speculation is that AT&T is spending $200 millio
n to get the word out on the flagship Nokia Windows Phone device. Usually, such high-spec'd devices aren't priced at such a "reasonable" price point.
Apple and AT&T blanketed the airwaves with commercials
and even non phone fanatics knew what the device was prior to its first launch. This is not the case with the Nokia Lumia 900 and with less than two weeks to its release date, AT&T is going to have to really pepper prime-time television with ads for the model if it is going to be a household name.
AT&T will be
throwing accessories at buyers of the Nokia Lumia 900
. And as if T-Mobile's low-end Nokia Lumia 710 didn't even exist, AT&T's Bradley called the launch of the Lumia 900 the re-launch of the Nokia brand. With Microsoft bolstering Windows Phone Marketplace, the AT&T executive says that its reps have been trained to show iOS and Android users which apps can replace the ones they use on their current device.
source:
CNET