AT&T-flavored BlackBerry Bold 9780 appears on eBay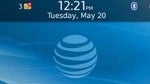 The
BlackBerry Bold 9780
was exclusive to T-Mobile's users, but not for long. It seems that the latest 'Berry showed up in its AT&T flavor on eBay. Wanna have it? Consider $899, and if that does not scare you off, you can go ahead and spend your cash on this 3G-enabled BlackBerry Bold 9780 with the AT&T logo on it.
Or... maybe that's the right time to remind you that you can get the
BlackBerry Torch 9800
for $99.99 with a 2-year contract on AT&T or even switch to T-Mobile and get the same Bold model for $129.99 with a two-year tie-in. In any case, it is most likely that the Bold 9780 will officially make its way to AT&T sooner rather than later. The latest proud addition to RIM's Bold lineup features BlackBerry OS 6 and carries all of the signature business features of a true BlackBerry. Should you wait? We will leave the decision to you.
source:
eBay
via
Engadget