RIM BlackBerry Bold 9780 Review
6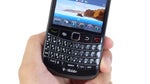 Introduction:
Following up after the impressive
Bold 9700
, which was released around this time last year, its successor in the
RIM BlackBerry Bold 9780
surely has its work cut out for itself. Now that BlackBerry OS 6 is starting to become more prevalent amongst RIM's lineup, it'll be interesting to see how it all will play out on a handset that's regarded as the bread and butter style of RIM's portfolio. Instead of finding itself at the upper end of the pricing spectrum, the BlackBerry Bold 9780 for T-Mobile is priced aggressively at $129.99 with a 2-year contract.
The package contains:
BlackBerry Bold 9780
2GB microSD card
Stereo Headset
microUSB Cable
Wall Charger
Start Guide
BlackBerry User Tools CD
Holster
Design:
If you're expecting something drastically different from last year's iteration, you'll be sorely disappointed to see the Bold 9780's design to be an exact replica. It's not to say that it's a bad thing, depending on how you look at it, but the Bold 9780 exudes all of the classic qualities we'd expect from RIM's Bold line of handsets – like its catching industrial design and solid construction. Fairly compact, its choice of materials also remains the same as it utilizes some tough feeling plastic, a metallic bezel, and that faux-pas leather back cover. In any event, we're still pleased with this design as it truly epitomizes what a tried and true BlackBerry should look like.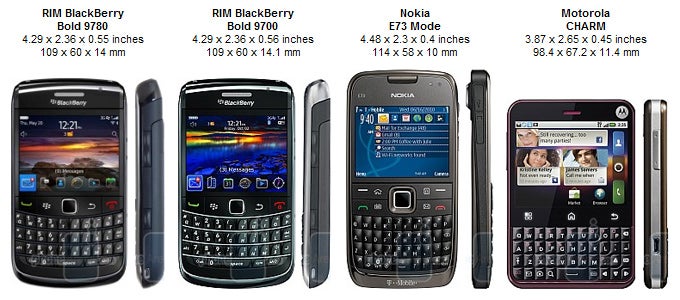 You can compare the RIM BlackBerry Bold 9780 with many other phones using our
Size Visualization Tool
.
There's nothing overly compelling about its same sized
2.44" TFT display
which manages to retain a resolution of 480 x 360 pixels and support for 65k colors, but it nevertheless gets the job done with its expressive details and colors. Using it outdoors doesn't pose too much of a problem as it dishes up some great viewing angles that are complemented with its high luminance. Even though we would've loved to see RIM up the ante, its decent looking display is more than forgiving for now – but we don't expect it to stand well if it's used again next year.
When we think about portrait style
keyboards
, the first thing that instantly pops up in our minds are the ones offered by RIM. Again, the Bold 9780 employs the same identical keyboard from its predecessor and functions almost flawlessly with its distinguishable buttons and tactile responsiveness. Even though people with larger fingers will have to deal with the tiny sized buttons, it's still undeniably useable after an adjustment period.
Continuing the trend, the optical track-pad is placed squarely in the middle of the device as it feels slick and highlighted with a chrome outline. Surrounding it are the usual set of other physical buttons which are flush, but separated – these include the send, end, BlackBerry Menu, and back keys.
The
left edge
of the phone houses the left convenience key, microUSB port, and 3.5mm headset jack, while rugged feeling right convenience button and volume rocker are placed on the
right side
. Discretely built into the
top edge
of the handset are the mute and lock/unlock buttons.
Luckily, we now find a bumped up 5-megapixel auto-focus camera with LED flash in the rear – as opposed to the 3.2-megapixel one with the Bold 9700. Sliding off the rear cover will grant you access to the easy to access spring activated microSD card slot, 1,500 mAh battery, and the SIM card slot which is found by removing the battery.
RIM BlackBerry Bold 9780 360-degree View: