A Verizon-bound LTE-enabled Samsung handset leaked, has a front facing camera
2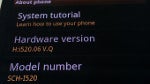 Seems like Verizon is
planning to release
quite a few handsets in the coming months in order to demonstrate the real life capabilities of its recently launched
LTE network
and a little by little we get to know more about these phones. Now, yet another smartphone is leaked thanks to a tipster - this time it's the Samsung SCH-I520. Except for the fact that the handset is LTE-enabled, at the moment it runs Froyo and TouchWiz and is set to be the first Verizon phone to feature a front-facing camera. Even better for some people, this model is rumoured to be Bing-free, which may mean that the Bing-Verizon love story is heading to its unhappy end.
On a separate note, if this handset's model number is of any indication, the Samsung SCH-I520 seems certain to join the powerful Galaxy S family with the
Samsung Fascinate
(also known as the Samsung Mesmerize and SCH-I500) being its closest relative.
It looks likely that a few Verizon-branded LTE-enabled handsets are set to flood the market early next year. This Samsung phone joins the ranks of the dual-core
Motorola Olympus
and the recently leaked
HTC Incredible HD
, but it's likely that more devices are to follow. Truth is, January 6 (and CES) just can't come soon enough.
source:
Gizmodo