Verizon's LTE launch
17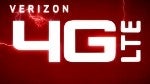 During a dedicated news conference yesterday, Verizon's CTO Tony Melone announced that Sunday,
December 5th
, is the day when the carrier will launch its 4G Long Term Evolution (LTE) service in 38 markets and 60 airports, covering
110 million people
, well on schedule. Mr Melone dedicated a lot of time to the fact that the download speeds on the LTE network will be between
5Mbps and 12Mbps
, while the uploads we'll see are between 2Mbps and 5Mbps.
He compared the speeds not to the competing "4G" networks of Sprint and T-Mobile, but rather to Verizon's existing 3G service - LTE is more than ten times faster, and has half the latency of 3G. Latency is very important, as it makes browsing and other activities way more responsive and zippy. Had Tony Melone compared Verizon's LTE speed and coverage to the existing "4G" networks in the US, it would be clear that it is actually a run-of-the-mill upgrade to the network.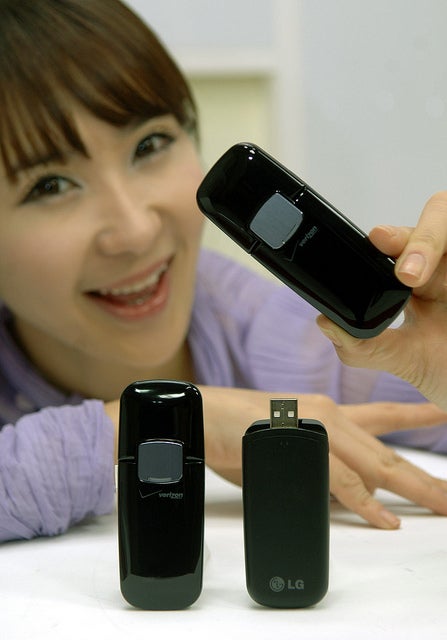 LG VL600 Verizon LTE dongle
In reality, the Sprint/Clearwire WiMAX network might be covering a bit more people than Verizon by the end of this year, and its peak speeds are only slightly slower than LTE's on paper. T-Mobile, on the other hand, will have rolled its HSPA+ coverage to more than 200 million people by year-end, almost twice Verizon's blanket, and the theoretical speeds of that network are faster than the LTE service. Real life speeds with HSPA+ can vary widely, though, and that's what Verizon usually points out when comparing its LTE with the others.
We'd rarely see the peak speeds, once the network is saturated with users, so in reality the difference in averages will probably not be very significant. Clearwire says its average speed is in the 3-6Mbps range, and HSPA+ gets a slightly higher claimed average range of 5-8Mbps. In the end, it will all boil down to price, coverage and who comes up with the snazziest "4G" gear and marketing campaigns.
In that train of thought, Verizon's LTE pricing scheme is pretty conservative. It simply offers
two plans
- 5GB and 10GB, at $50 and $80 per month, respectively. The overage charge is the rather unpleasant $10 per GB, and users will be notified when they hit 50%, 75% and 90% of their alloted data package. The 5GB LTE plan, though, is cheaper than the current 5GB 3G plan, which is $60. Verizon is clearly trying to get users move on to the more efficient LTE network, for which they will have to buy the
LG VL600 "4G" dongle
that is available right now for $99.99 on a two-year contract. Another, swiveling Pantech UML290 USB key, will be on its way shortly.
In comparison, Clearwire's WiMAX service, which Sprint is reselling as its "4G" network, costs $45 for unlimited usage, and the company also has prepaid and pay-as-you-go plans available. Sprint's high-speed data service is bundled with its 3G coverage, and costs $60 for unlimited data. There is 5GB 3G allotment should you go out of WiMAX coverage area. Sprint also has two very successful smartphones that take advantage of it, the
HTC EVO 4G and the Samsung Epic 4G
, and a
third
should be on its way.
T-Mobile charges $39.99 for its 5GB data plan monthly. It will be upgrading the HSPA+ network to reach
42Mbps
theoretical peak in 2011, from the current 21, which can only be taken advantage of with one USB modem device for now. Otherwise it also has a good selection of smartphones to use the speedy data, with the
T-Mobile G2
and
T-Mobile myTouch 4G
handsets. Verizon has zilch, and is likely to stay this way until the Spring at the earliest. Here is a nice breakdown of the speeds, people covered, and prices, in a table format: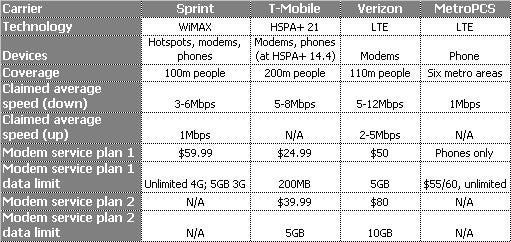 US carriers "4G" pricing and coverage. Source - PCMag

To recap - Verizon advertises its new LTE network as the "fastest 4G network in America". We know that Big Red has a pretty stable award-winning network already, and have no reason to believe otherwise about its LTE service. Therefore its averages could indeed be faster than the rest of the "4G" offerings, at least in the beginning, especially when you have just two dongles that can take advantage of those speeds.
Verizon's Tony Melone said at the conference yesterday that the goal is to ensure a stable network, and they will focus on covering all the current 3G areas with LTE, which will take until 2013, instead of moving on to a faster technology. It might turn out quite the smart approach, considering all the trouble AT&T got itself into as the exclusive carrier for a data-hogging device, such as the iPhone, without having the capacity to handle it. And, frankly, those 12Mbps peak speeds are already what home broadband can offer, so it's unlikely you will need much more in reality.
Is it worth then buying Verizon's LTE dongle, and locking yourself in a two-year contract right now? If you have ample coverage from other "4G" services where you live or travel, it might be wiser to wait and see until at least the Spring, when Verizon should have announced its LTE smartphones, AT&T will have cleared up its HSPA+ upgrade and pricing details, and, who knows, there might even be a nice little price war between the competing "4G" services, which we can all benefit from.
Have a look at an unboxing video of LG's VL600 LTE modem for Verizon below, and the peak speeds achieved with it in Arizona above. It's nice to have an untouched network, isn't it?
source: Verizon,
PCMag
&
SlashGear