7-inch Toshiba Thrive arrives in stores, prices start from $379.99
1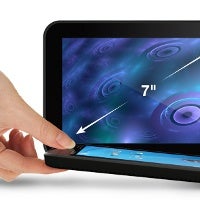 Looking for an affordable 7-incher? The
Toshiba Thrive
7-inch
tablet would have been exactly that had it been released a couple of months earlier, but now it looks more on the pricey side in a world where there are the $199 Amazon Kindle Fire, $249 Barnes & Noble Nook Tablet and the $299.99 HTC Flyer. The Thrive arrives in two versions: a 16GB one for $379.99, while the 32GB model carrier a price tag of $429.99. Interestingly, this prices the 7-inch Thrive above its 10.1-inch sibling which retails for $299.99 for the most basic version.
Nonetheless, the 7-inch Thrive offers a solid dual-core punch with the NVIDIA
Tegra 2
processor on the inside paired with 1GB of RAM, all powering Android
3.2
Honeycomb.
The tablet
fulfils Toshiba's earlier promise
to make it to shelves in December, but we're left wondering whether it's not a bit too late for it. With quad-core slates like the Asus Transformer Prime just around the corner with a price nearing the one of this small dual-core tablet, it will have a tough time battling for the user's heart. How do you like it?