7" Toshiba Thrive featured with 1280x800 pixels display, will clock in under $400 in December
3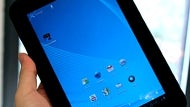 A 7" Toshiba Thrive has come to fill in a gap in Toshiba's line of Android tablets, and
the new tablet delivers 1280x800 pixels of resolution
, a rarity in the 7" world.
Other than that it seems pretty close to the bigger 10"
Toshiba Thrive
version, without the USB 2.0 port - it has HDMI and miniUSB only, plus a microSD card expansion slot. The body resembles the original Thrive, but is slimmer at 0.47", and weighs 0.88 pounds.
Far cry from
the thinnest Android tablet Toshiba AT200
, which is only 0.3" thick, but the 7" Toshiba Thrive has probably been conceived way before that, just waiting for Google to size down Honeycomb for 7-inchers.
The smaller Thrive is again powered by a 1GHz dual-core Tegra 2, has 1GB RAM, 5MP rear camera and 2MP fronter, plus your choice of 16GB or 32GB internal memory capacity. The 7" Thrive is expected to arrive some time the end of November/beginning of December for less than $400.
Recommended Stories