5 of the coolest apps to create lip sync / karaoke / musical videos
2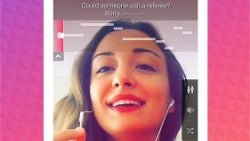 Karaoke is awesome and karaoke apps let you simulate its magic from the comfort of your own home or when at a party with friends. But what if you can't sing to save your life, yet want to put yourself in the glamorous shoes of a pop star?
Well, that's where lip sync apps come in to help. They let you fire up the front-facing camera of the handset, then play a hit song for you to perform over. Adding your own voice in is optional, but to keep the audience distracted from your obvious lack of singing genes, you can have effects, jump cuts, fast forward or half speed playback, et cetera.
Combine this with the social media culture of today, and you've got apps that allow you to entertain your friends and have a laugh at their own performances. Let's check out some of the best apps for the task!