5-inch 1080p Huawei Ascend D2 launches in China, coming elsewhere in March
12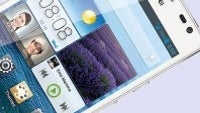 The
Huawei Ascend D2
might not have gotten as much of the press love and attention as the
Sony Xperia Z
, but with a 5-inch 1080p display, an aluminum body and dust and water resistance it deserves every right to get users love.
And now, merely a week after the phone was shown to the world at CES 2013 (but still months after its official unveiling in Asia), the Huawei Ascend D2 has now launched in China.
China Telecom customers can now get the Ascend D2
for an off-contract price of $640 for a dual-SIM version of the device. Expectations are for Huawei's flagship to arrive to other countries in March.
Freshening up your mind about the Huawei Ascend D2, it has a 5-inch IPS 1080p screen, a quad-core 1.5GHz processor, a 13-megapixel BSI camera and a 3,000mAh battery.
All of this fits in a 0.39-inch (9.9mm) thick body, and the phone runs on Android 4.1 Jelly Bean.
source:
Android and Me