5 excellent yoga training apps for Android and iOS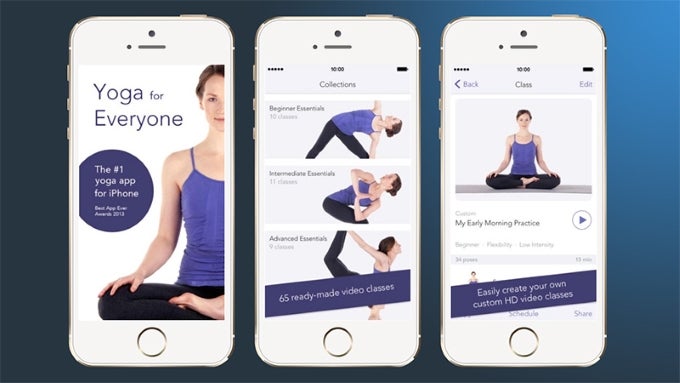 If you are into doing yoga for exercise or recreation, your smartphone can be of big help. There's no shortage of quality apps with elaborate collections of readymade classes, poses documented in high detail, instructions by expert teachers, and convenient utilities to schedule exercises and track your progress. The five Android and iOS apps we've rounded up below let you take the yoga practice anywhere with you, improving your performance and deepening your knowledge of the art. We hope you will find them useful!
Pocket Yoga
Pocket Yoga lets you keep up with your practice everywhere and at your own pace. There are 27 sessions of different duration and difficulty levels. If you must learn poses, you can consult a pose dictionary with detailed explanations of the correct posture, alignment, and benefits. Detailed voice and visual instruction is provided for every pose, and they are illustrated in over 200 instructional images. The app lets you keep an ongoing log of your yoga practices and play music from your music library. It also integrates with Siri on the iPhone, allowing you to start your practice with a voice command.
Download for Android or iOS ($2.99)
Yoga Studio
Yoga Studio contains more than 70 yoga & meditation classes suitable for practitioners of all abilities. It lets you find a class based on preferences such as duration, focus, ability, and level of intensity. There's also the opportunity to create your own classes using your phone's camera and the app's inbuilt video stitching. The schedule and track features let you schedule classes that automatically sync with your calendar or repeat every month, fortnight, week, or day. There's a yoga pose library where you can browse more than 280 poses with detailed images and information such as their benefits, instructions, modifications, variations, and cautions. And with the Smart Search function, you can discover poses based on type, focus and ability. If these aren't enough, there are many more features to explore.
Download for Android or iOS ($3.99)
Daily Yoga
Daily Yoga features over a hundred yoga and meditation classes with varied programs for yogis of all levels. There's a library of over 500 poses with detailed instructions, along with health data logging, class scheduling, specially designed meditations with an online coach guide, meditation music, and ready-made exercise plans for different goals – boot camp, body toning, weight loss, strength, flexibility, relaxation, balance, menstruation, body detox, meditation, and others.
Yoga Monkey
Yoga Monkey offers 10 functional yoga sessions, designed to last up to 20 minutes and help you lose weight, sleep better, fight depression, improve digestion, fight depression, relieve pain, or do exercise in the office. You will be guided by a cute monkey character, which makes yoga more fun and approachable.
Global Yoga Academy
Global Yoga Academy is a serious offering great for beginner, intermediate and advanced yogis alike. It lets you do 5 to 60 minute workouts and consult a library of over 200 poses with detailed advice and instructions for each. Classes can be customized according to your ability, intensity, focus, and desired workout duration. The app plays ambient music for meditation or lets you stream music from your playlist. Your progress is tracked and achievements can be earned, motivating you to keep going.
ALSO READ