40% of tweets now originate from a cell phone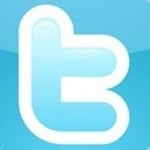 According to Twitter, the percentage of tweets originating from a cell phone has increased from 25% last year to the current 40%. This information comes from Twitter's CEO Dick Costolo who sat down for an interview with Marketwatch during the recent CES. Costolo credited the rise in mobile tweets to the development of official apps for the BlackBerry, Apple iPhone and Android operating systems. 50% of those active on Twitter are active mobile tweeters, pointed out the CEO.
So what are people tweeting about? Costolo says that much of the traffic centers on prime time television. The CEO said that tweets per second increase as much as 100 times the previous level once Glee starts each week/ Once the show ends, the level of messages drops back down. Twitter says that it has been talking to the networks about adopting a program using Twitter to take advantage of the higher tweet level during evening television.
With more than 175 million registered users around the globe, Twitter users have sent out 25 billion tweets over the past 12 months. This high usage of the application has helped put a $3.7 billion value on Twitter, based on the latest round of financing by Venture Capital firm Kleiner Perkins Caufield & Byers who closed a $200 million round of financing in mid-December. Would Twitter users have to stop tweeting during the SEC's two week quiet period before an IPO?
source:
newmediaage
via
FierceMobile