4.8-inch Acer Iconia Smart finally hitting shelves
3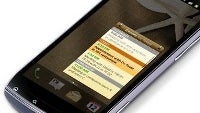 You might remember the
Acer Iconia Smart
as the ultra-long handset that was the first to stun our minds with a 4.8-inch screen and a 21:9 aspect ratio. Now, in mere couple of months the smartphone display realities have changed and while we're still impressed, we're not necessarily stunned. The Iconia Smart has picked this exact time to finally hit shelves at UK online retailer Expansys, sporting a price tag of nearly $615 (389 pounds) off contract .
The phone has kept a low-profile but it's been almost as long in the making as the Droid Bionic. The handset was introduced in February at MWC and that's where we took it for a spin, so don't hesitate to check our
hands-on preview of the Acer Iconia Smart
to refresh your memory about the device.
The Iconia Smart's 4.8-inch screen boasts a resolution of 480 x 1024 pixels. It's also got a stylish unibody steel casing, contributing to a premium feel. It is however pretty heavy at 6.52 ounces (182g). Under the hood, a single-core 1GHz Qualcomm MSM8255 processor powers Android Gingerbread. Finally, on the back there is an 8-megapixel camera for snapping photos on the go.