Acer ICONIA SMART Hands-on
5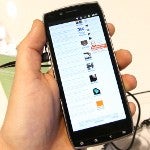 We headed to Acer's booth at MWC with asense of excitement - Acer still feels like the new kid on the block when it comesto smartphones and maybe that's what allows it to make some boldmoves. And bold the Acer ICONIA SMART is – with a screen of 4.8inches with half XGA resolution of 480 x 1024, it stands out amongall other offerings just by its size.
Its huge screen puts it somewhere inbetween a tablet and a phone, but its narrow body gives it a "phone" look. The sleek and stylish unibody stainless steel casing give it apremium feel. It certainly shows that Acer has put significant effort in the design of its handsets, but unfortunately we just couldn't quite get used to the phone's overblowndimensions. The ICONIA SMART looks like your common smartphone whenit comes to width, but heightwise it is the mount Everest ofsmartphones. It is pretty heavy as well at approximately 6.52 ounces(185 grams). We can imagine it more as an entertainment device –it has a 21:9 panoramic ratio, excellent for watching movies on thego. At such a size the TFT screen inevitably becomes not only themain selling point of the device, but also a part of the design.That's why we appreciated its great viewing angles. While it may lackin color vibrancy in comparison to Super LCD and Super AMOLED Plus,it delivers beautiful bright colors.
Under the hood, we have a 1GHz QualcommMSM8255 CPU and 512MB of RAM. Such horsepower is welcome for the bigscreen and Android Gingerbread's needs. Acer is expected to skin thedevice with its own custom UI, which looks similar to the Breeze UIwe saw previously on handsets like the Acer Liquid Metal.
Another advantage of having a 4.8-inchis having more space for... you guessed it right – typing. Indeed,the landscape QWERTY on the ICONIA SMART feels spacious. And Acerbrings its own unified messaging application where you have all theSMS and MMS messages displayed along with your Facebook and Twittercommunication. Connectivity is well covered with Wi-Fi b/g/n and up to 14.4Mbps download rates via HSDPA. Unfortunately, when browsing we found the text to be usually too small to read without zooming in landscape mode, so this scraps one of the main advantages of the phone. The browser supports Flash.

We mentioned the entertaining qualitiesof Acer's flagship, but we have to add on the 6-axis motion controls(gyroscope and accelerometer that is). Add to this the HDMI-out port and DLNA supporton the ICONIA SMART, and we can imagine a few ways to use it as agamepad on an HD TV screen. Finally, this could also be handy forviewing photos taken with the 8-megapixel auto-focus camera with LEDflash. It supports 720p HD video recording, while on the front youhave a 2-megapixel snapper perfect for video chats. Finally, withnews for the handset coming out somewhere aroundApril/May, we can't help but cross our fingers in anticipation.