3G Skype app for iPhone downloaded close to 5 million times since last Sunday's launch
0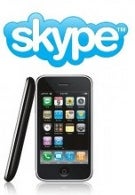 Last Sunday, as we
reported
, Skype 2.0 became available for the iPhone. The new app allows-for the first time-iPhone users to make Skype to Skype calls free over the users 3G cellular network. Previously, users had to find a free Wi-Fi connection before using the service. Originally, a small fee for the calls was going to start in September, but as we
told you
the other day, the VoIP firm has decided to keep this service free until the end of the year. We would expect that with 5 million potential paying customers joining up in less than a week, the temptation for Skype to start charging has to be very strong, especially since the company says it needs the funds to invest in the equipment necessary to keep the high quality of phone calls over its pipelines. Skype spokeman Russ Shaw said that the rates that the firm will eventually charge for calls will remain competitive. He said, "
We're not going to want to price ourselves out of the market," he said. "I can't ignore the fact that consumers (currently) use us for free."
Shaw added that demand for the new app was strong across Skype's three big areas-Europe, North America and the Asian Pacific regions. With a new iPhone expected to be introduced June 7th, the VoIP provider says it hopes to support the new model.
source:
Reuters