3, 2, 1... Great Android apps for celebrating New Year's Eve!
2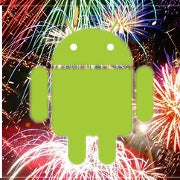 Your precious Android smartphone is doing a lot to help you with your daily routines, but you feel like it won't be as involved as usual while you're celebrating the coming of 2012? Fear not, we found some pretty cool apps in the Android Market that will make your phone an indispensable part of this year's celebrations. How about a New Year resolutions tracker? Or a cheerful widget with a built-in countdown timer? It's all below, so read on and enjoy!
Nothing is more inspiring on New Year's Eve than reading a few famous quotes. With this app, you'll find a pretty decent selection of New Year quotes, some of which are even suitable to be used as New Year greetings! If you're in the mood for some deep thoughts this year, you should look no further than New Year Quotes.

New Years Eve Countdown

- Free

What's a New Year without a good countdown timer? Here's an elegant widget solution for your homescreen. With this widget, you'll always be aware of the days, hours, minutes and seconds remaining until the ball drops. A bonus feature of the widget, at least according to the developer, is that it's pretty lightweight, so it should cause much trouble to your system.

3D New Year Live Wallpaper

- $0.99

One of Android's cooler tricks is its ability to display Live Wallpapers, or dynamic animations, instead of static images. 3D New Year Live Wallpaper is one of the better ones we've seen, and probably one of the best Live Wallpapers you can find for New Year's Eve. The developer has wisely included a countdown timer, different color themes and a special Chinese New Year mode. Watch out - here come those 2012 dragons!

New Years Resolutions

- $1.99

This was one of the better New Year resolution apps we could find in the Market. It may not be the most feature-rich ones, but it does let you to set your own resolutions, add notes to them and schedule helpful reminders. Plus, it comes with a widget for your homescreen so that you never forget about your greater goals. If you think you'll need some help in accomplishing your New Year resolutions, this app might be the key to success!

Photo Cards - New year

- Free

Here's a nice way to surprise your friends and family for New Year - send them a greetings card with your own photo the moment the fireworks start! On second thought, it might be better if you wait until the morning, just to make sure that you don't send your mom a photo of your intoxicated self. Photo Cards is actually more of a universal solution, but its latest update has brought some cool New Year frames just in time. Other options of the app allow you to add custom text (in various colors), or share your cards via Facebook or email.