10 of the best cases for the Motorola Moto G (3rd gen, 2015 edition)
9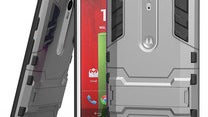 The
Motorola Moto G
is by no means a high-end product. It hasn't broken any benchmark records, and it isn't likely to win any beauty contests anytime soon. Yet none of that matters when the excellent bang-for-the-buck ratio of the Moto G has made it Motorola's best-selling phone ever. And chances are the Moto G's third iteration will be no less popular than its predecessors.
Now, the 2015-edition of the Motorola Moto G is by no means a fragile handset. As a matter of fact, it is resistant to water ingress, as indicated by its IPX7 certification. Drops and bumps, on the other hand, might damage a Moto G given enough force. That is why equipping yours with a protective case is definitely a good idea. And we might have just the thing.
After a thorough scouting of the internet, we came up with a list of cases for the 3rd-generation Motorola Moto G. And these 10 are some of the best Moto G cases you can find right now. Whether you need a slim and light cover or a tough and durable armor case, you're likely to find the right option in the slideshow below.