$10 monthly for all you can eat... magazines is Next Issue Media's Hulu for periodics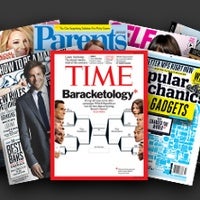 Here's a big idea - being able to read
all the magazines you want for only $10 to $15 a month
. And with tablets being the perfect medium, it's coming to reality. Next Issue Media, a startup made up of the big names in magazine publishing - Condé Nast, Hearst, Meredith, News Corp and Time Inc, is now making this come true on Android. There are some catches like the somewhat limited selection of titles and the fact that you'd still be looking through ad-sponsored magazines, but overall the idea of not having to pay to read only one issue is brilliant.
This is only the beginning, though - currently the app is only supported on Honeycomb tablets, and the breakthrough should come with the promised iPad support.
Honeycomb support
also writes off the hugely popular Kindle Fire and Nook Tablet, both of which run on skinned Gingerbreadk.
So what do you subscribe for? There are two flat-rate plans for a number of magazines. The first bracket for $10 monthly includes the following titles:
All You
Allure
Better Homes and Gardens
Car and Driver
Coastal Living
Condé Nast Traveler
Cooking Light
Elle
Esquire
Essence
Fitness
Fortune
Glamour
Golf
Health
InStyle
Money
Parents
People en Español
People Style Watch
Popular Mechanics
Real Simple
SI for Kids
Southern Living
Sunset
This Old House
Vanity Fair
The premium plan for $15 monthly, adds five more magazines (including weeklies) to sweeten the deal:
Now, the economics start to make sense only if you read a couple of magazines on a regular basis, or if you plan on sharing your tablet with others in your family who read different issues. It all adds up to $120 for the basic subscription and $180 for premium. We should also underline that this is a digital edition-only deal and doesn't include print.
It's an interesting experiment, and who knows, we might be signing up ourselves. What about you?