10 iPhone 6 and iPhone 6 Plus charging docks
8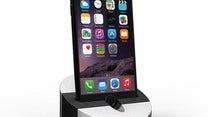 Without a doubt, the
iPhone 6
and
iPhone 6 Plus
are the hottest phones right now, with over 10 million of them having found their way to buyers' pockets. But you know what else is also in high demand right now? iPhone accessories, unsurprisingly. And since you've landed on this page, then chances are you're also a happy iPhone owner, looking for a cool dock to accessorize your iPhone with.
We did some scouting on the internet in search of the most attention-worthy iPhone 6 and iPhone 6 Plus charging docks. You know, so you don't have to! The result is a list of 10 options you might want to take a look at, ranging from fancy and expensive to cheap and basic. Somewhat disappointingly, many of the coolest iPhone docks will not ship until later this fall, but hey, anyone who can wait a month to have their iPhone 6 Plus delivered should be okay with that.
Need an iPhone case as well? Check these out!