Sony Xperia 1 Review
34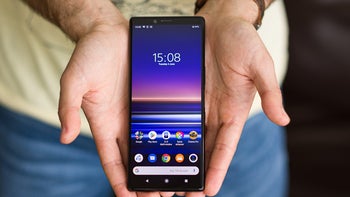 The Xperia 1 is more than just Sony's latest flagship phone. It is the catalyst in the company's transformative turn in a new direction – one that would hopefully bring the Xperia brand back on the radar. It is the first Sony phone with a triple camera and the only handset on the market with a 4K OLED HDR display. The 21:9 aspect ratio makes it ideal for multitasking and watching movies, while camera features like eye-tracking autofocus and Cinema Pro video recording with full manual controls should have creators intrigued. But at a price of nearly $1000, does the Xperia 1 stand a chance against the high-end Android competition? I've been using it for about two weeks now, so here are my thoughts on the matter.
In the box:
Sony Xperia 1 phone
USB-C to USB-C cable
Wall charger (18W with USB Power Delivery support)
USB-C to 3.5mm audio adapter
Wired stereo headset with 3.5mm jack
Start-up guide
Design
I find it fair to start with the most peculiar design trait of the Sony Xperia 1 – its shape. It is dictated by the 21:9 display aspect ratio (or 9:21, if you will), making this one of the tallest phones in its class. At the same time, Sony's flagship is narrower than rivals like the Samsung Galaxy S10+ or the iPhone XS Max.
There are several practical benefits to these unorthodox, extra-tall proportions. On top of the list I'd put the fact that the phone is easier to hold and use than its peers, especially considering the fact that it's a 6.5-inch screen you're handling. Furthermore, you do see more content in the web browser and in apps like Facebook, Twitter, and basically anything that has a vertical feed to scroll through.
Other claimed advantages are up for debate, however. A valid point Sony makes is that 21:9 is a popular cinematic aspect ratio, so it's great for movies, but on the other hand, YouTube videos, most of which are shot in 16:9, are shown with huge black empty spaces on the sides. In fact, unless you're watching one in fullscreen mode – which is not an ideal solution as it crops a significant chunk of the frame – a 16:9 YouTube video on the Xperia 1 is comparable in size to what you'd get on a Galaxy S7. Lastly, a taller screen is much more suitable for side-by-side multitasking, especially when the phone can fit a YouTube Video, an app,
and
the keyboard on its screen. However, it must be pointed out that after many years of availability, Android's split-screen experience still leaves room for growth: many popular Android apps, including Facebook Messenger and Instagram, have no split screen support and you can't put two instances of the same app, such as two Chrome tabs, side by side.
Aspect ratio aside, the Sony Xperia 1 is a premium, well-built phone, as one can tell after feeling the extra-powerful vibration motor or by the way its Gorilla Glass 6 surfaces blend seamlessly with the solid metal frame. Its general styling is rather conventional. Instead of the arching back we had on the Xperia XZ3, the rear is now a solid piece of glass with the camera lineup sticking out. Also, the XZ3's curved display edges have been dropped so as to not interfere with the cinematic experience. A 3.5mm audio jack is still missing, but you do get stereo speakers.
There's quite a lot going on on the right side of the Xperia 1. In the middle is a fingerprint reader – one that gets the job done but is neither as fast nor as reliable as those on other phones we've tested. Curiously, the power button is separate now instead of being embedded with the fingerprint reader. The volume rocker is up top and at the bottom you'll find a rare beast: a dedicated 2-stage camera shutter button. Personally, I don't always use it to take photos, but it makes a great camera app shortcut.
Display
The Sony Xperia 1 stands out with being the first and only phone with a 4K OLED display. It measures 6.5 inches across the diagonal and has a resolution of 1644x3840 pixels for a pixels-per-inch figure of 642 ppi. Now, we won't get into a debate on whether a human being can tell the difference between this and a Quad HD smartphone screen (probably not). What we do want you to know is that this screen looks gorgeous, and at times, I do feel like I'm looking at pictures printed on a piece of paper. It is worth noting that in order to save battery, the phone renders content in full 4K resolution only when that makes sense: in the Album app, in Google Photos, or when an app is playing 4K video in landscape.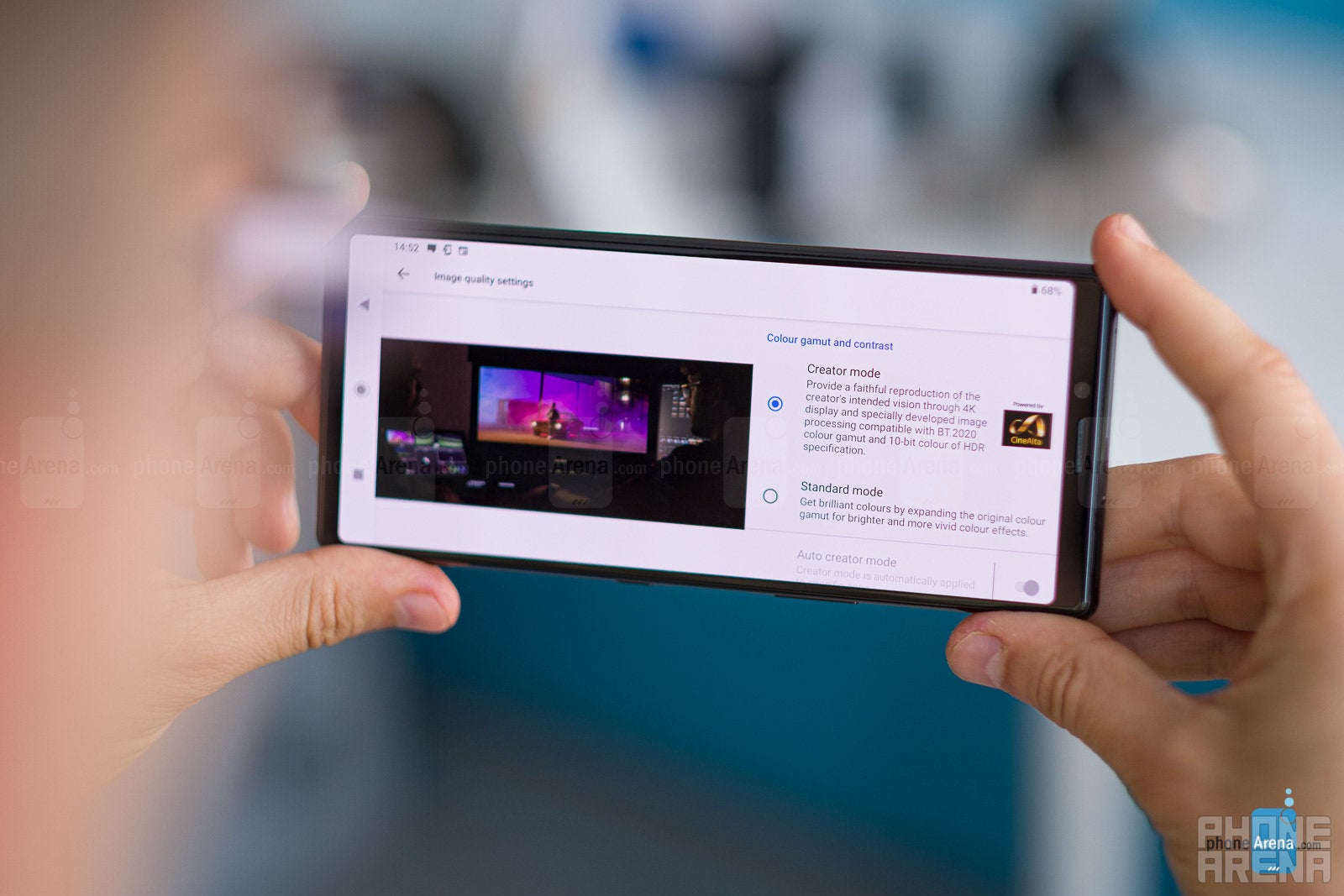 But when it comes to color accuracy, there's a catch. By default, the Xperia 1 is set to display cold, oversaturated colors – probably because a typical user would simply like colors that pop when they check this phone out at a store. To get better color accuracy out of this screen, you have to go to Settings and choose the so-called Creator Mode under the Display tab. This sets a display color profile similar to what you'd find on Sony's Master monitors, used by professionals when editing movies. Strangely, whites still looked cold to my eye even in Creator Mode, and our measurements did confirm a color temperature of over 7700K, which is too cold to be considered accurate. Fine-tuning the white balance manually is possible in the Display Settings menu, so that's what I did to get the appearance that I wanted.
The maximum brightness value of 587 nits was measured on an all-white screen. We were able to hit 650 nits when a white image was only partially hitting the screen. All in all, outdoor visibility is not an issue with the Xperia 1.
Display measurements and quality
Interface and software
Android 9 Pie comes loaded on the Sony Xperia 1, and the user interface looks very similar to what we've seen on previous Xperia models. Overall, the software has a "stock" feel to it. Google's Digital Wellbeing feature is available and so are Google's on-screen navigation gestures if you prefer those over classic on-screen buttons. Ambient Screen, Sony's always-on display feature, shows quick status information on the display during stand-by: time, alarms, pending notifications. To save battery, Ambient Screen lights up only when you lift the phone, but it can be set to be on at all times.
Side Sense is still here and it is as frustrating to use as it was on the Xperia XZ3. For those not familiar, the feature lets you access frequently used apps, toggles, and modes with a quick double tap on the edge of the display. This sounds fine in theory, but in practice, your taps need to be so precise that you're likely to give up on it while still in the Side Sense tutorial.
Game Enhancer is a tool that gamers would appreciate. What I like the most about it is that it can disable auto-brightness while I'm playing. It also lets you record your gameplay and reduce performance in order to extend battery life. What I don't like is that the Game Enhancer icon stays floating above your game at all times while it's active.
Processor, memory, and performance

Having the fast Snapdragon 855 chip in a phone running clean, simple Android software is a recipe for success. The Sony Xperia 1 switches swiftly between apps and responds instantly to input. Day-to-day performance has never been an issue throughout my testing, even though the 6GB of RAM may not seem like much in 2019.

Of course, the Xperia 1 can handle even the heaviest of modern mobile games, although some of them might not be able to fill the entire screen. I have noticed signs of thermal throttling once or twice, but only during prolonged periods of playing – after an hour or so.

The Xperia 1 comes with 128GB of on-board storage. That should be plentiful for most people, and for those who need more, a microSD card slot is available.






Camera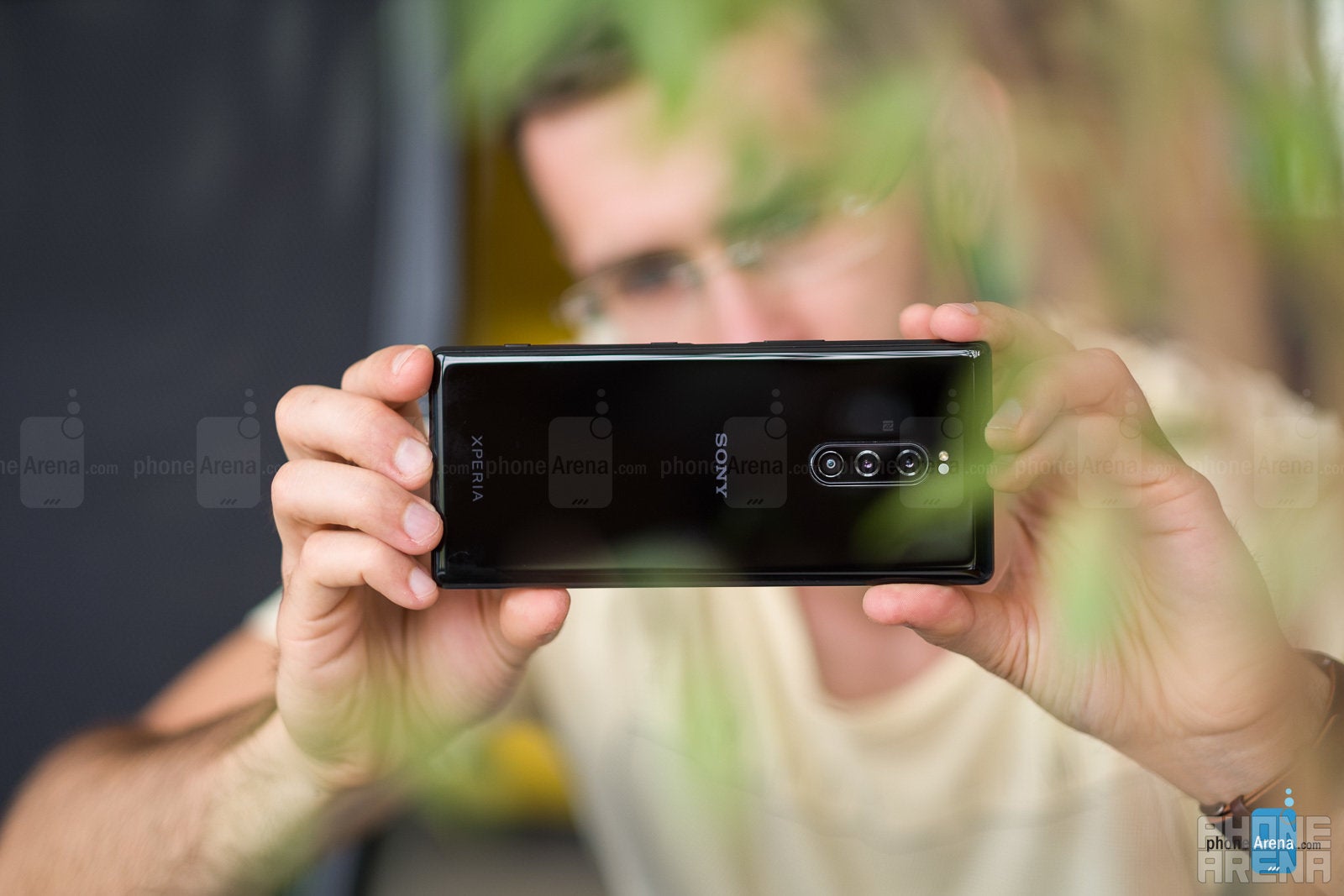 Now comes the fun part. The Sony Xperia 1 is the company's first phone with a triple camera, and it's a setup rivaling the best cameraphones in terms of specs and abilities. In a nutshell, you get a main all-purpose camera and a telephoto camera for portraits and zooming, while the third cam has a fixed-focus super wide-angle lens, kind of like the one you'd find on a GoPro. Out of all multi-camera setups we've seen so far, this is the most versatile one, and its no surprise that high-ends like the Samsung Galaxy S10+ and the LG V50 both use identical triple-camera arrangements.
Main camera specs
Telephoto camera specs
Super wide-angle lens
12 megapixels
Aperture size: F1.6
Focal length: 26 mm
Sensor size: 1/2.6"; Pixel size: 1.4 μm
12 megapixels
Optical zoom: 2x
Aperture size: F2.4
Focal Length: 52 mm
Sensor size: 1/3.4"; Pixel size: 1 μm
12 megapixels
Aperture size: F2.4;
Focal Length: 16 mm
Sensor size: 1/3.4"; Pixel size: 1 μm
I'm far less impressed by the software driving the Xperia 1's cameras: it simply feels unfinished at this point. The camera app is sometimes slow to launch and even slower to switch between cameras. Taking multiple portrait photos too quickly causes the camera app to become unresponsive and unable to focus properly. Glitches aside, there's just one button to cycle between lenses, meaning that to get to the wide-angle cam, you have to switch to the telephoto one first, which eats up precious seconds in certain situations. I know that Sony is trying to keep things simple here, but there has to be a better solution.
Image quality
On a more positive note, the Sony Xperia 1 is well capable of taking fantastic photos – especially when it is in the right hands. Images look neutral in tone, with no enhancers or AI gimmicks trying to make them "better" by boosting the contrast and saturation beyond realistic levels. The 2x telephoto camera is great for portraits. The wide-angle camera can capture epic shots from dramatic angles and has real-time distortion correction (if you enable it). The eye-tracking autofocus comes in handy when shooting close-ups and works even on pets or when your subject is wearing glasses. The burst mode helps you capture split-second moments with clarity by adjusting the focus and exposure for every image. All in all, Sony has packed a great arsenal of camera tools in the Xperia 1. You just need to know how to take advantage of them, and the learning curve isn't the smoothest.
Here are some of my favorite shots.
But again, I feel like the software is holding this otherwise capable camera back. While there is an automatic HDR-like mode, the camera uses it only when absolutely necessary. Because of this, my gallery contains more than a few photos where the sky is completely washed out or the subject is obscured by shadows. Take a look at the first five images in the gallery below.
Low-light images out of the Xperia 1 are okay, though nothing out of this world. At night, the camera may literally take four seconds to take and process a photo, but the final result isn't any better than what I captured with a Galaxy S10 or an iPhone XS in the same situation – and in a fraction of that time. There is no dedicated night mode similar to Google's Night Sight, but Sony is looking into it.
Selfies
Shots out of the 8MP front camera with OIS look average. I can't say that I'm happy with the details that it produces in low light, but the HDR mode does a good job taking care of bright backgrounds. The lens itself is wide enough to fit a lot of people, but does introduce some distortion near the edges – something typical for lenses this wide.
Video
Videos shot on the Xperia 1 look really good overall and has very clear stereo audio, but the footage might have been even better with a more steady image stabilization. HDR video is still an option, but while that video looks good on the phone's screen, it could be incompatible with some social media services, so use it with caution. You may switch between the main and the telephoto cameras while filming video, but not to the wide-angle one. Another limitation is that 4K video is shot at 30FPS tops. There is no 4K 60fps mode on the Xperia 1.
Cinema Pro
This is the name of an app you'll find preloaded on the Sony Xperia 1. It is made specifically for professional video recording and it gives you total control over camera settings such as ISO, shutter speed, white balance, and focus. You may also use any of the three cameras. The look of the video may be tailored to the theme of the setting by applying one of eight different filters. The output video is shot in 4K at a 21:9 aspect ratio. Long story short, this is an app you'll never use unless you're shooting with the intention of editing the footage afterwards, but it could be useful to those who know how to make the most of it.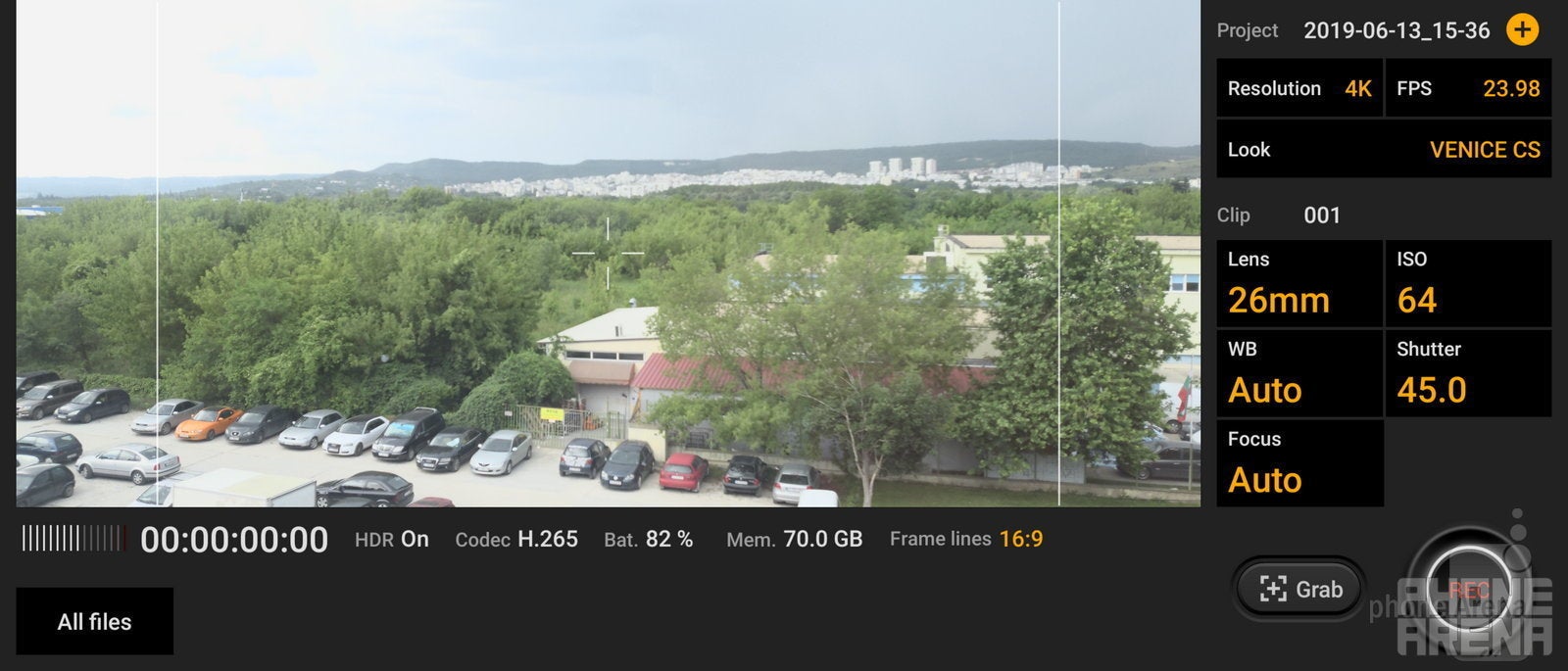 Audio quality
As I pointed out in the beginning, the Sony Xperia 1 doesn't have an audio jack, but it does come with a dongle you can use to connect a favorite pair of wired earphones. My review unit also came with a wired in-ear headset in the box. It has a 3.5mm connector, not a USB-C one, so it will work with other gadgets like your laptop, for example. Sound quality is well above average, with an ample amount of bass.
Like many Sony phones from the past, the Xperia 1 offers stereo sound through its loudspeakers. One of the drivers is the earpiece, and the other is a bottom-firing loudspeaker. The sound is loud, with clear highs and well-reproduced vocals, and there's a good balance between the left and the right channel. On the downside, there's no bass to speak of. I know you can't expect much in terms of low frequencies out of a smartphone, but both the iPhone XS and Galaxy S10 deliver more bass out of their loudspeakers.
Battery life
On paper, the 3300mAh battery inside the Xperia 1 is one of the smallest you'd find in a high-end Android phone. By comparison, the OnePlus 7 Pro comes with a 4000mAh cell and the one inside the Galaxy S10+ weighs in at 4100mAh. But here's the thing: the actual battery life I've been getting out of the Xperia 1 is not bad at all. It's not fantastic either, but I can't say that the Xperia 1 disappoints in this department. On a busy day, I'd get around 6 hours of active usage including roughly 2 hours of gaming, 1 hour of web browsing, 2 hours of YouTube, and an hour of Spotify streaming. With lighter usage, it lasts me well into the second day, probably because the phone uses barely any power during stand-by. But if you play Fortnite a lot or use the camera all the time, you might need a top-up before the evening.
I got an 18W charger with my Xperia 1 review unit. It needs almost 2 hours to charge the phone completely, but this could be because Sony prioritizes battery health over charging speeds, and slower charging prolongs the cell's lifespan. Besides, the phone charges faster than the XZ3 from last year.
Wireless charging is missing on the Xperia 1 even though it was available on the Xperia XZ3. Sony skipped it because the phone's design was a greater priority, we're told.
Conclusion
Sony's mobile business is supposedly headed in a new direction, but one crucial aspect doesn't seem to have changed – pricing. In the US, the Sony Xperia 1 can be only pre-ordered for $949 on Amazon, and it won't ship until July 12. A Galaxy S10+ costs $50 less and you can have one today, either unlocked or through a carrier. Had Sony bundled it with a pair of premium earphones, the Xperia 1 would have been a great deal, but as things stand right now, it's going to be another tough sell for a Sony flagship in the US. And this is unfortunate at a point in time when Sony desperately needs a phone that sells.

Don't get me wrong: the Sony Xperia 1 is actually a very good phone. It is fast, it feels solid and well built, and its screen looks lovely, uninterrupted by a notch or a camera cutout. At this price point, however, a phone has to be more than good. It has to be flawless, and the Xperia 1 isn't. The fingerprint reader can be unreliable, but it's something one can live with. On the other hand, the most powerful camera hardware on a Sony phone ever is in need of better software: of both stability and image quality improvements, of more reliable HDR algorithms and better low-light performance. Of course, things could be different in a month, after a software update or two, but again, that's how things stand today.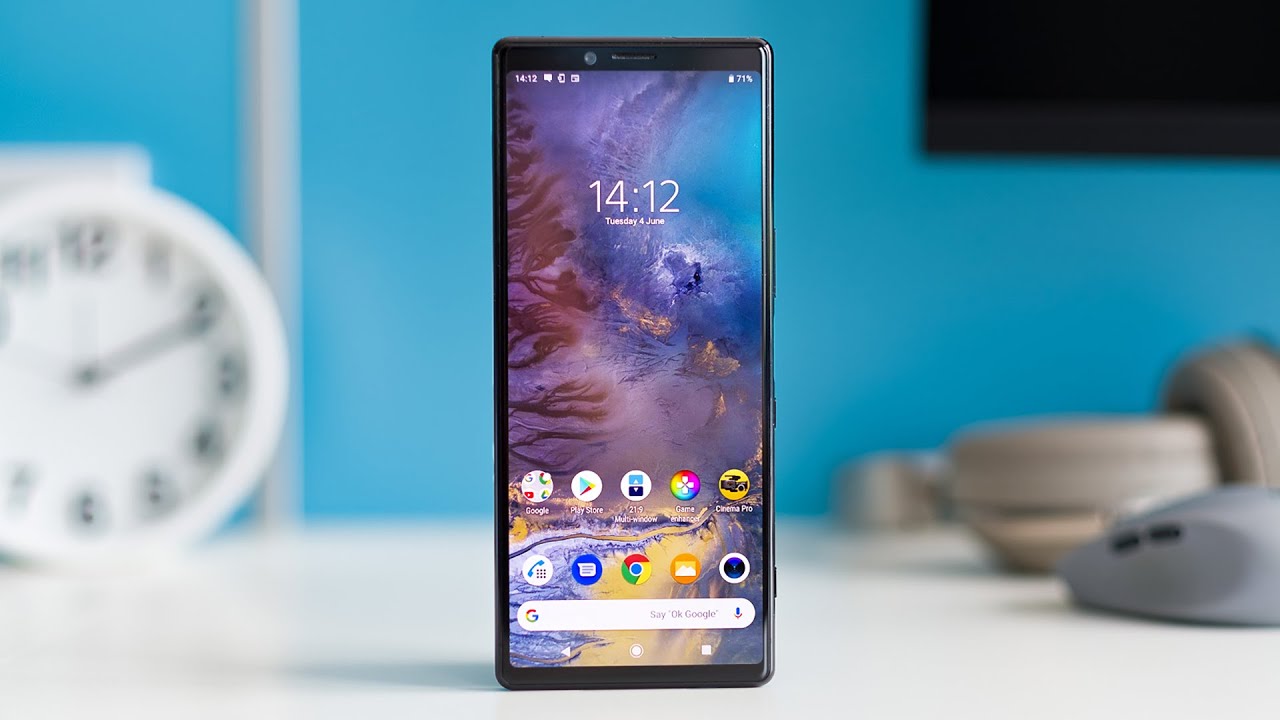 Recommended Stories