Samsung Galaxy Trend Plus Review
17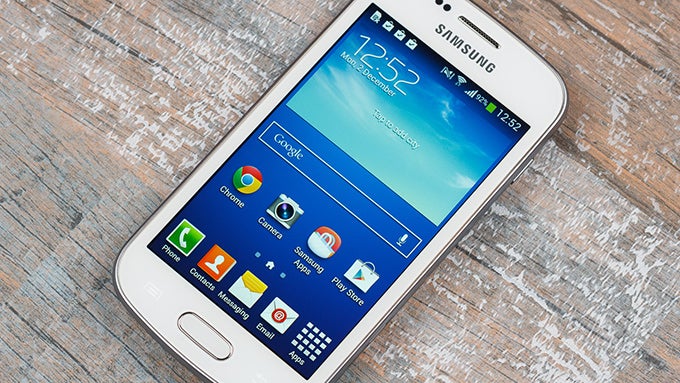 Introduction
With the Galaxy Trend Plus, Samsung is aiming to grab the attention of those consumers in need of a brand-name smartphone that doesn't break the bank. Retailing for under $200 off contract, it offers a decent 4-inch screen, a usable 5MP camera, a dual-core CPU clocked at 1.2GHz, and Android 4.2 in charge of the show. Seems like a good deal, doesn't it? Well, don't be so sure about that as the
Samsung Galaxy Trend Plus
isn't exactly a flawless handset. Yet it does have its strengths as well. Read on as we walk you through all you need to know about it.
Design
Picking up the Samsung Galaxy Trend Plus instantly induces a sense of déjà vu in our minds. The phone carries a striking resemblance to many of the company's previous handsets Its proportions make it easy to hold and operate with a single hand, while its curvy sides further improve the handset's ergonomics factor. On the downside, the phone feels cheap, which it actually is. Its body is made of plastic, the ordinary kind, with a silvery gray trim around the side and a removable plastic back cover treated to a matte finish. It is available in either black or white.
The physical buttons on the Samsung Galaxy Trend Plus are well exposed and easy to reach – words that can be said about most handsets by the company. The volume rocker is on its left side and its power key is conveniently positioned on the right. Below the screen we have a large, clicky home key, which takes us to our home screen. On its left and right side respectively are located capacitive buttons for the "menu" and "back" functions.
Display
Considering the low cost of the Samsung Galaxy Trend Plus, we're delighted to see that it sports a pretty good-looking display. It is of the TFT LCD kind, measuring 4 inches in diagonal, and its resolution of 480 by 800 pixels gives us an acceptable pixel density of around 233 ppi. Colors displayed on it are vivid, even at an angle. Their accuracy isn't spot on, however, as they are a tad colder than they should be. The good news is that these slight color inaccuracies are practically unnoticeable most of the time. We can confirm that the display is bright enough to be used comfortably even on a sunny day. One drawback, however, is that it can't adjust its brightness automatically, depending on the ambient light conditions, so one has to do that manually via the slider in the notifications panel.
Display measurements and quality