Samsung Galaxy Grand Duos Review
36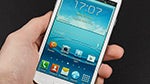 Introduction
Samsung Galaxy Grand
enters a pretty interesting marketing niche – people eventually eager for a big-screen smartphone that might not break the bank. The 5" Galaxy Grand skimps on features like HD screen resolution and internal memory to reach that goal.
The phone is apparently aimed at emerging markets, judging not only from the specs, but from the availability of a dual SIM version with the
Grand Duos
we have in our hands. Has Samsung compromised too much or will it reach a newly created target market, just like it did with the Note family? Read our review to find out...
Design
The Galaxy Grand DUOS looks like a larger
S III
, or a smaller Note II, whichever you prefer. Samsung is making everything nowadays, big and small, with the distinctive rounded corner design that is immediately recognizable because of its blockbuster S III handset.
You can compare the Samsung Galaxy Grand Duos with many other phones using our Size Visualization Tool.
The Grand DUOS is more reminiscent to the
Note II
, actually, with the faux metal rim on the sides, and the tapered back with subtle pattern makes is fairly comfortable to hold with one hand, considering the screen size, but hard to operate with just your thumb, of course. The phone is somewhat hefty for today's standards at 5.71 oz (162 g), yet having in mind the screen size again, it does not feel thick and bulky.
Display
We know what you are thinking – WVGA on a 5-incher? C'mon! Well, 480x800 it is, which returns 187ppi pixel density, and doesn't look good if you are used to the HD and Full HD screens of late. For comparison, the 4.8" HD screen on the Galaxy S III, which is not small by any measure either, rings in at 306ppi. The resolution is not unusable, as the Grand DUOS is a big-screen phone and you hold it further from your eyes than usual, thus diminishing the low resolution effect somewhat.
Samsung uses LCD here, instead of the AMOLED technology that goes for its flagships - the 5" panel on the Grand DUOS is with decent viewing angles and bright enough, so you can tell what's on it outside under direct sunlight, thus the only big drawback remains its low pixel density.
Recommended Stories