Samsung Galaxy Express Review
7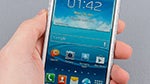 This is a review of the European version of the Samsung Galaxy Express. The Samsung Galaxy Express is also available under the same name on AT&T in the United States, but in a modified version.

Introduction:
The
Samsung Galaxy Express
is a mid-range device that has already launched in the United States, but now it is making its way to Europe in a version that is similar, but also different in key areas. It is the same 4.5-inch Android handset, but in this modification it runs on an (almost) up-to-date Android 4.1 and features Qualcomm's energy-savvy 28nm Krait processor on a Snapdragon chip with 4G LTE support.
That's definitely a big asset for a relatively affordable device, but you know Samsung had to cut it short somewhere to arrive at its lower price. And indeed it has with the most visible shortcut being a 5-megapixel camera. How huge of a compromise is that and is it worth making? Let's find out.
Design:
If you appreciate original design, we'd definitely understand your frustration with the Galaxy Express. It is the same generic iteration on the
Galaxy S III
pebble-like form that we have seen so many times already. It's practical and feels well in the hand with its nicely rounded corners and relatively thin 0.37-inch (9.3mm) profile, but it's definitely not awe-inspiring, not something that we'd feel attached to emotionally. The device is built out of plastic and comes with a glossy finish.
On the front there is a single large physical home button that is comfortable to press. The lock key is on the right side, and on the left is a volume rocker, both of which are easy to press. As in most Samsung devices there is no dedicated physical shutter key, and instead you'd need to only rely on the on-screen buttons for image and video capture.
Display:
The Galaxy Express comes with a
4.5-inch Super AMOLED Plus capacitive touchscreen
with vivid saturated colors. There is only one downside to it - it is of the disappointing for its size WVGA 480 x 800 pixel resolution. On the 4.5-inch that works out to a low pixel density of around 200ppi and while that's not such a huge deal, it definitely has a noticeable impact on things like text readability.
With that said, we have to give credit where credit is due. Despite its disappointing resolution, the screen looks good. Colors are vivid, blacks are pitch black, viewing angles are wide, and sunlight legibility is good.