Microsoft Lumia 640 Review
35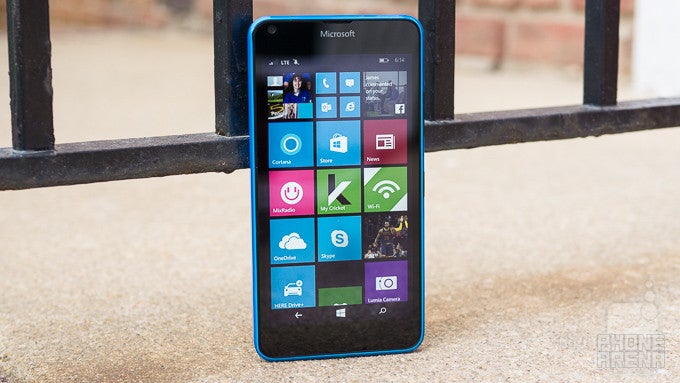 Introduction
Alas, the Nokia name is no longer attached to Lumia, replaced instead by its new caretaker - Microsoft. The change became more pronounced during Mobile World Congress 2015 earlier this year, where both the
Lumia 640
and
640 XL
were unveiled at Microsoft's press conference. High-end, flagship phones have been all the rage from its rivals, but Microsoft has opted instead to steer the direction of these phones towards the entry-level segment. In this review, we're putting the Lumia 640 through some testing to see whether or not it's something that can pique the interest of consumers. At the very least, though, some might be instantly dazzled by its hard-to-beat pricing of $129.99 as a prepaid option courtesy of Cricket Wireless.
The package contains:
Lumia 640
microUSB cable
Wall charger
Quick start guide
Product and safety information
Design
Following in tradition, the Lumia 640's design is distinctive and colorful.
While it's billed as an affordable, entry-level offering, the Lumia 640 doesn't fall victim to the handful of cheapo phones that are designed terribly – you know, the ones that look and feel cheap. Rather, there's a pleasant balance present here, as it features the Lumia signature brightly-colored plastic body. From the front, it appears to exude a soft rectangle shape, but the rounded corners and high gloss finish of its casing definitely add some pep and pop to the design – enough to make it a visually appealing smartphone. And to that, there's even a pleasant level of sturdiness attached to its construction.
Taking a quick peek around the phone, it's obviously sporting all the usual buttons and ports found on any smartphone – like its microUSB port, 3.5mm headphone jack, microphone, volume controls, and power button. What's strange, though, is that it doesn't have a dedicated shutter key for the camera, which is a feature we've come to expect with Lumia smartphones.
Display
A generously sized display, it's neither a wash, nor is it a visual feast.
This aggressively priced phone has been slapped with a sizable 5-inch 720 x 1280 ClearBlack IPS-LCD display with Gorilla Glass 3 on top for protection. Even though tiny text is still discernible from a normal viewing distance, it clearly lacks the sharpness, detail, and intensity that other higher resolution screens produce.
Other aspects about the display reveal that it's actually a pretty well-made affair overall. In particular, its 6930K color temperature and gamma value of 2.25 are very close to the the reference marks of 6500K and 2.2, respectively, which is a great feature to find on such an entry-level phone.
However, its maximum 352 nit luminance doesn't make it a a very good candidate for visibility under bright conditions. Adding to that, its viewing angles are rather weak, seeing that the screen distorts – ultimately giving the color black a milky/grey tone. Factoring everything, the Lumia 640's display is surprisingly good in some aspects, while it makes compromises in others, just as one would expect from such a low-cost device.
Display measurements and quality
Recommended Stories