Asus ROG Phone Review
30
UPDATE:

You can now read our Asus ROG Phone II Review!
The gaming phone is hardly a new concept, and
Asus' ROG Phone
is but only the most recent example. Being the new kid on the block does have its perks, though. Not only has Asus gained the experience from devices that came before the ROG Phone, but the company's actually not new to gaming or phones. That might be what makes the ROG Phone so special. The full line of accessories launched alongside it doesn't hurt either. We spent some quality time with the ROG Phone to see if Asus could properly marry its gaming traditions with its smartphone strengths to make the best gaming phone yet.
Asus ROG Phone
Aeroactive Cooler Accessory
USB-C to USB-C Charging Cable and Wall Adapter
Replacement rubber plugs for proprietary port
Design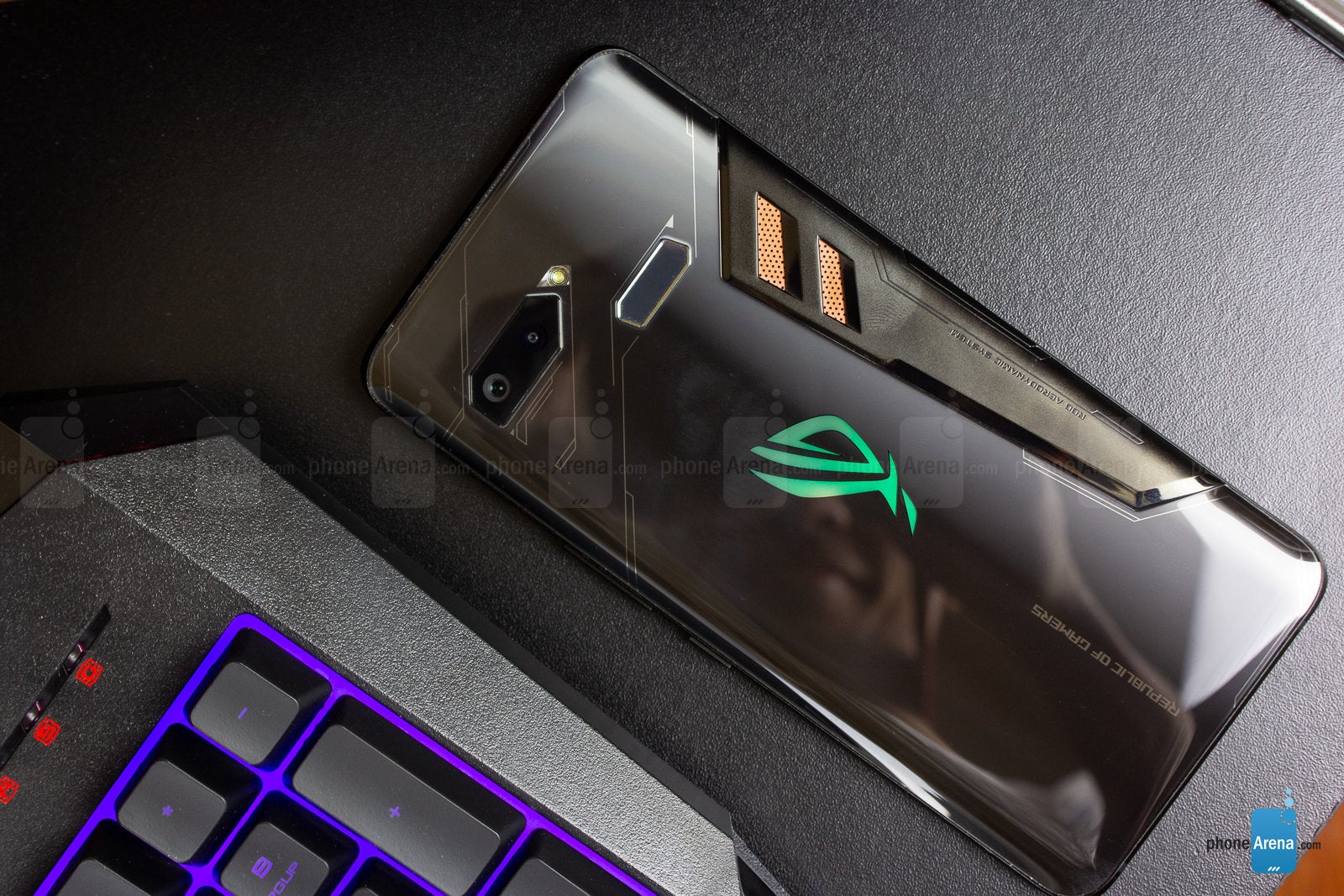 The ROG Phone looks like a gaming phone. Its copper, dual-speaker grilles in front and gunmetal gray back, with painted faux circuit board accents and RGB-lit Republic of Gaming logo give it away as such. That doesn't mean it's a toy, though. It's a weighty phone, constructed of metal and glass, and in back the copper cooling vents give you a glimpse into the serious hardware packed within.
More evidence of this is found on the edges of the phone, where you'll find squeezable and tappable sides for customizable phone functions as well as game-specific, mappable trigger buttons called Air Triggers, as well as a proprietary port which can be used to unobtrusively charge the device via the USB-C cable during gaming or plug in one of the many ROG Phone accessories.
Ergonomically, the phone feels pretty good in the hand, but our only qualm is the off-center fingerprint sensor in back and its narrow surface area. It takes some searching for your finger to find it, and then a little more time to properly authenticate with such a small target.
Display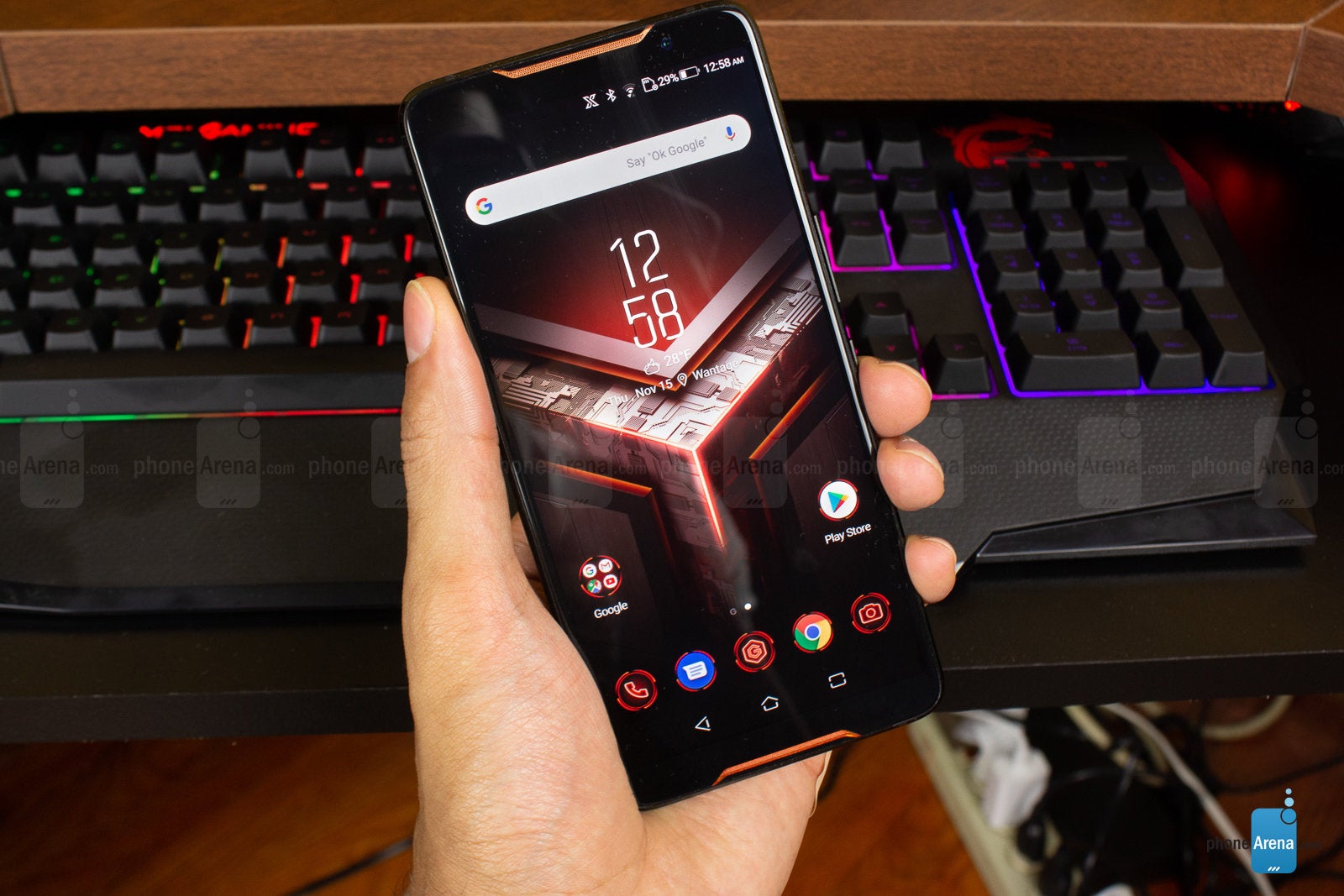 The mobile gaming experience can be made or broken by the screen you're not only looking at but interacting with. Fortunately, the ROG's 6-inch, FHD+ (2160 x 1080 px) display shows sharp details and very good luminosity, reaching 476 nits. Also nice to find is HDR support and a 90Hz refresh rate.
Asus gives you the option to run the display at the more common 60Hz or the noticeably smoother 90Hz rate, and the difference is marked. You'll plainly see the smoother frame rates scrolling through menus, and, of course, in your gameplay. It may not be 120Hz like we've seen on the Razer Phone, but the experience is still solid, and, for a gaming phone, we expect nothing less.
Color reproduction is also decently accurate on the ROG Phone, especially in standard mode. Aside from Standard and Splendid screen modes, you can tweak hues and saturation manually to meet your tastes.
Display measurements and quality
Processor, Memory, and Performance
The ROG Phone features an overclocked Snapdragon 845 paired with 8 GB RAM and 128 GB base storage, with an option for 512 GB. This SoC features the highest CPU frequency of this well-known chip thus far and as such should do some impressive work. In day-to-day tasks, we weren't disappointed; zipping around the OS is a speedy affair, no matter the task or amount of processes being juggled.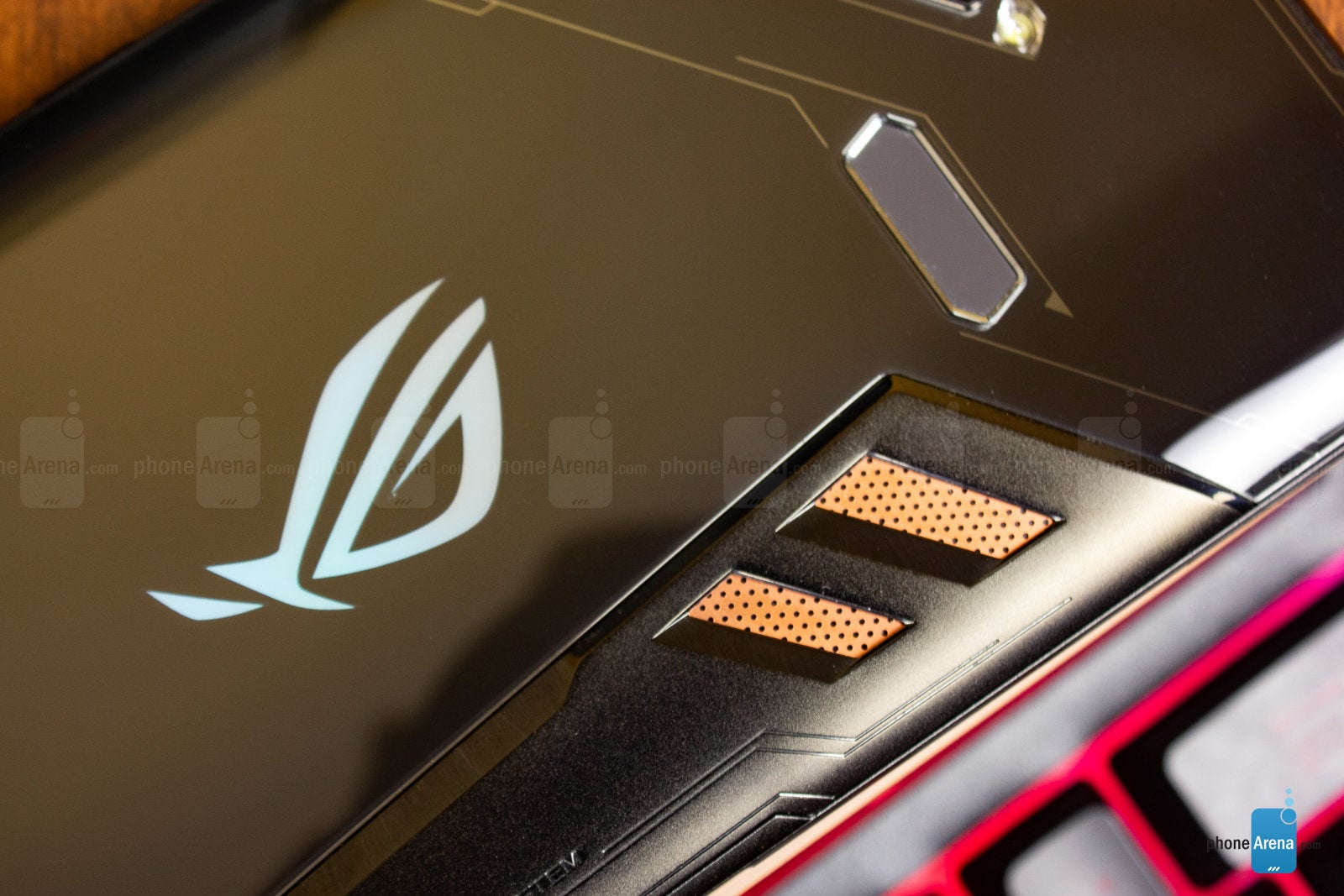 Gaming, of course, is where we really want to see the ROG Phone perform, and perform the ROG did. Without enabling X Mode, we came across almost no skips and absolutely no stutters in gameplay; the ROG has an all-around, composed demeanor.
X Mode is a nice little boost to have to ensure the highest performance at all times, proving it can flow through the most graphics-intensive games like water and cut out entirely any instances where we might've seen a skipped frame in regular mode.
Of course, the 90Hz screen refresh rate enhances the gaming experience noticeably over the average 60Hz rate on most phones, making gameplay look as buttery-smooth as it feels. It's not quite at the same level of the 120Hz experience on the Razer Phone 2, but it's an appreciable upgrade in which gaming fans will find much delight.
Battery Life, Thermal Performance, and Aeroactive Cooler
Equipped with a 4,000 mAh battery, the ROG Phone wants to make your gaming sessions last. To that end, not only is there a secondary charging port in the middle of the phone for powering up while gaming, but that port also accepts the included Aeroactive cooler accessory, which can certainly affect battery life. In our testing, this impact was a positive one due to the snap-on fan's notable efficacy in cooling the system, thereby making a better environment for battery life to thrive.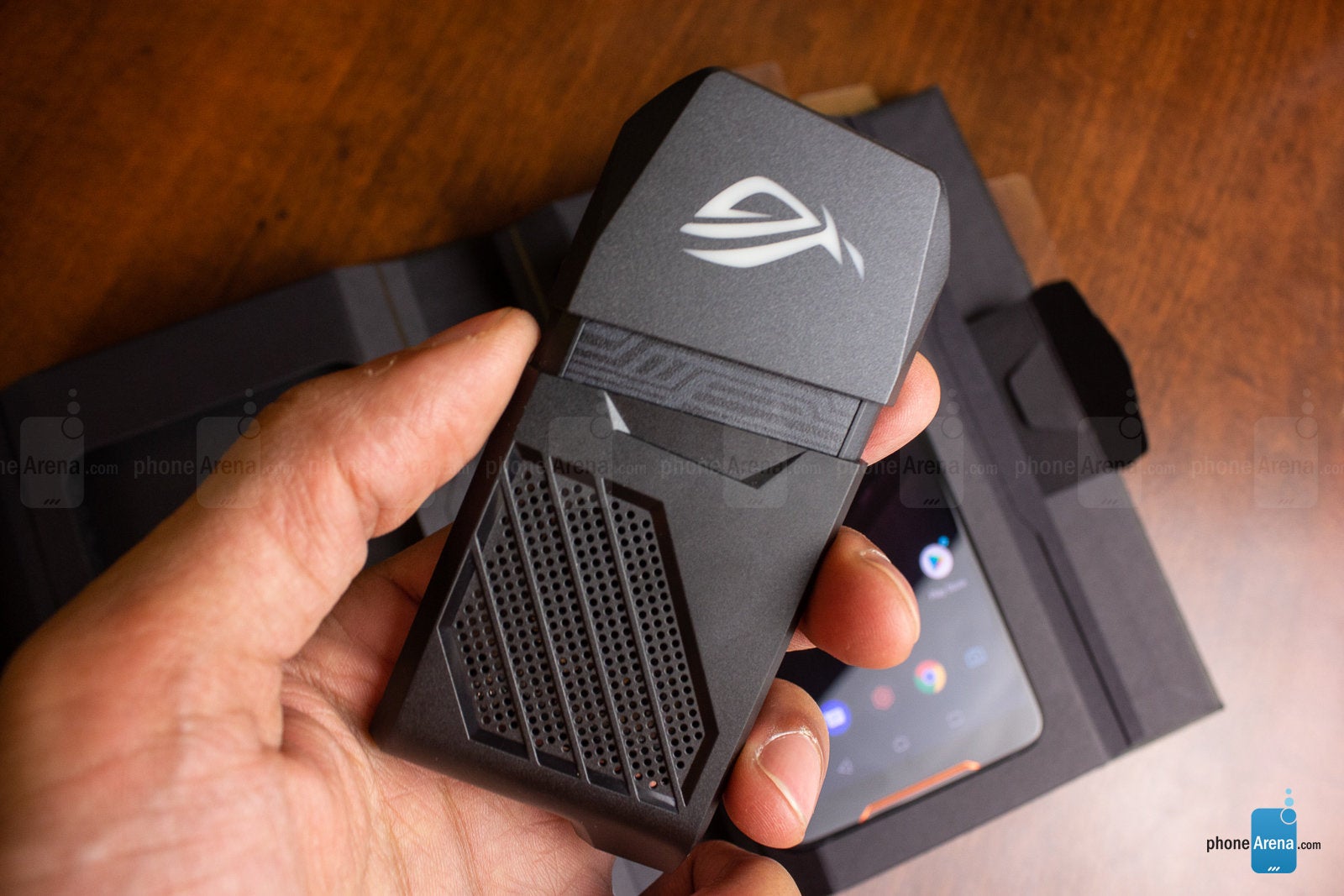 In our gaming sessions, we found that games like PUBG Mobile don't tax the battery too much. In about an hour of gaming without X Mode enabled, we lost about 15% battery and the phone's temperature raised from 71 degrees to 89 – an 18-degree jump. After about an hour break, we spent another hour playing PUBG in X Mode, which saw a moderate increase in battery usage, draining about 20% in an hour's use and raising the core temperature only 12 degrees from 77 to 89.
We ratcheted things up a bit from here, continuing in X Mode, but with a more intensive game – Asphalt 9. The ensuing half-hour of gaming saw a 20% drop in battery life (nearly double the rate) and a 15-degree uptick in temperature, rising from 89 degrees to 104. Seeing (and feeling) this sharp upturn, we decided it was time to snap on the Aeroactive cooler.
With this accessory attached, we gamed for 30 more minutes, with the fan on full-blast, and witnessed only a 12% battery drop and a dramatic cooling from 104 degrees to 87. All in all, three hours of gaming – two of which spent in X Mode, and 30 minutes with the Aeroactive cooler – discharged the battery by about 60%. Of course, these aren't the most scientific results, but the theme is clear – you can game for hours on the ROG Phone and snapping on the Aeroactive cooler only furthers your gameplay.
When the battery finally does run out, though, Qualcomm's QuickCharge 4.0 comes in handy, filling up the ROG from 0 to 100 in just about 90 minutes.
Interface and Functionality
There's always a ton to explore on Asus phones when it comes to tweaks and additional software. ROG UI, not to be confused with ZenUI, is no different. Built on Android 8.1, the iconography is unique, offering more instances of unobtrusive gaming flare. You'll find the same dearth of interface customizations and gestures Asus phones typically offer, but with a few more gaming-related additions.
Game Center is where you'll find most of these bonus features. Among them are an interface to customize the Aura Light, control fan speed on the included AeroActive Cooler accessory, and toggle X Mode – a higher-frequency CPU mode.
Within Game Center you'll find access to Game Genie and Air Trigger setup. Game Genie is a feature we've seen on Asus phones before, enabling gamers to stream or record their gaming sessions in up to 1080p, silence notifications, and optimize memory for better performance.
Air Triggers, which leverage tappable sides as an extra pair of mappable buttons for your games, are an ROG exclusive, though. While the taps are easily registered, the ergonomics aren't very conducive to gameplay. Unfortunately, the positioning of your hands when holding the phone makes reaching these a bit unnatural, thus making the regular on-screen buttons preferable. We love the idea here but moving these tappable areas to the back of the phone would be much more useful.
As for using the squeezable sides for other OS tasks, we like that you can map any app to launch from a short or long squeeze, as well as a handful of functions, like taking a screenshot. But the hardware is pretty unforgiving if you don't squeeze the exact sweet spot. This requires you to move your hand into an unnatural position, as trying to squeeze the sides with a normal grip will be a frustratingly hard task.
Accessories
The ROG Phone launched with some clout – all courtesy of Asus. A number of accessories were released to complement the phone's gaming prowess and extensibility.
Mobile Desktop Dock: $229.99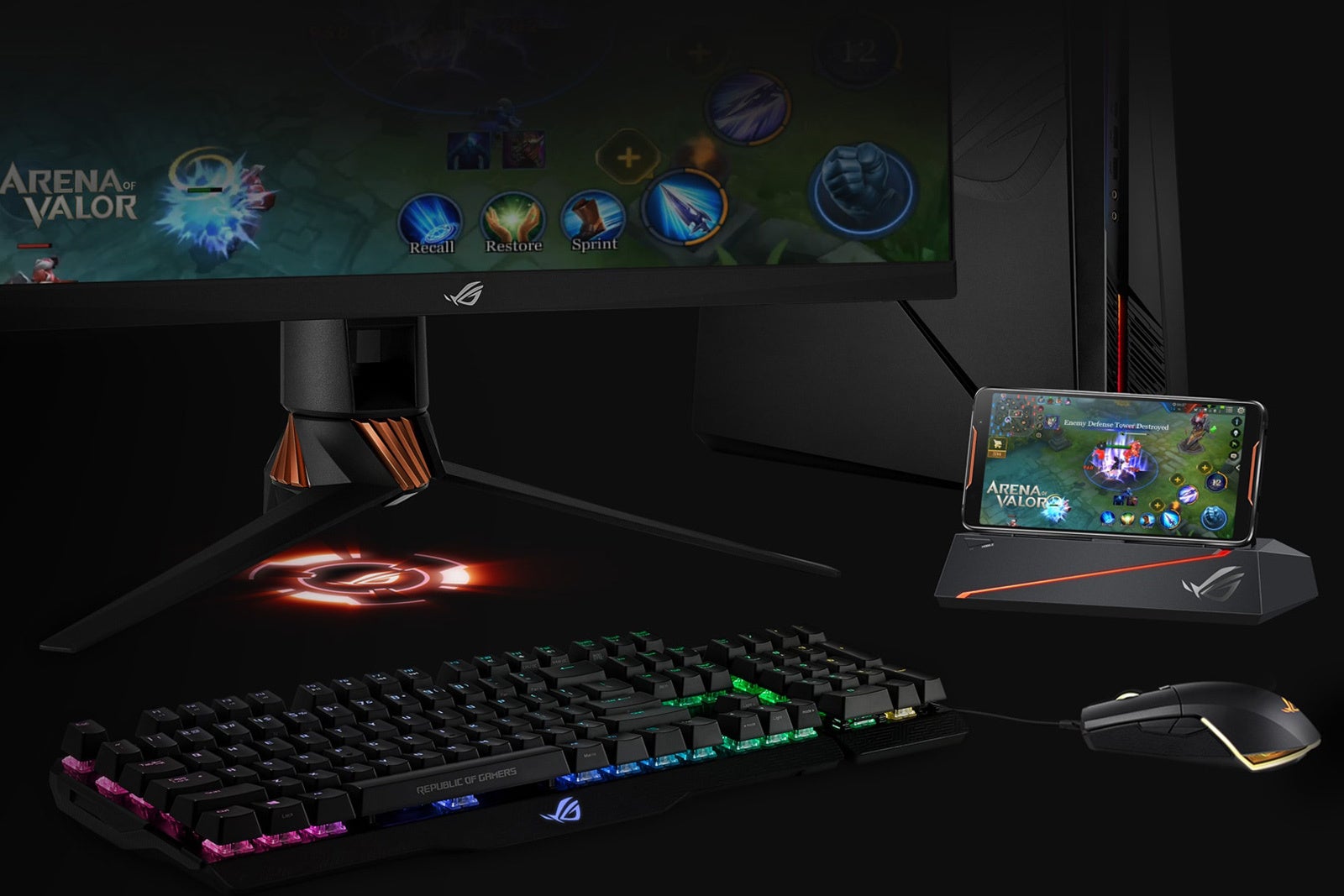 Offering a plethora of ports - 4 USB-A, Gigabit Lan, HDMI and Display port out, a microphone, 3.5mm headphone jack, Micro-USB, and an SD card slot – this docking station emulates a true [mini] desktop experience, making it an ideal candidate to add a mouse, keyboard, and large screen to your gaming or perhaps your work. The RGB lighting striped across the front of the dock gives you a pretty good idea as to which of those two Asus had in mind.
Professional Dock: $119.99
This dongle brings many of the same ports as the Desktop Dock (HDMI, two USB-A ports, Gigabit LAN, and USB-C for charging) but is much more compact and easier to carry, making it a better option for discreet, productivity-focused extensibility on the go.
Twinview Dock: $399.99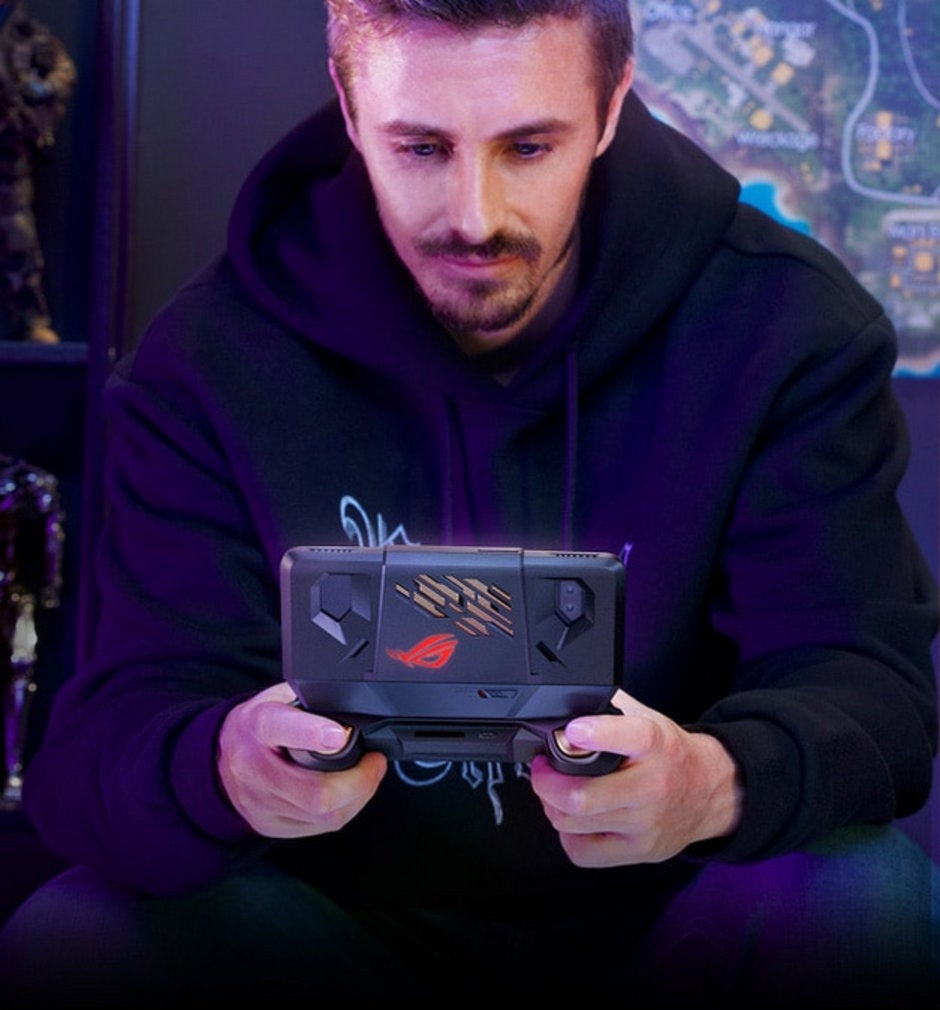 Essentially a clamshell device consisting of a second screen with two additional speakers and a place to mount the ROG Phone, the Twinview Dock aims for an experience similar to a Nintendo DS with its two-screen, interactive gameplay. Unfortunately, only one game currently supports this as Asus must work directly with game developers to support second-screen controls. On the other hand, the Twinview dock can open and run any other Android app on its second screen independent of your gameplay – YouTube for cheats and walk-throughs, for example – and adds a 6,000 mAh battery to charge your phone and power the dock. Still, a second screen and additional battery is a tough sell for $400.
Gamevice Controller: $89.99
Built by gaming accessory manufacturer Gamevice, this gamepad attachment gives you the full mobile gaming experience a la Nintendo Switch by adding that which mobile gamers crave the most – a proper controller. The buttons can be mapped and saved as you see fit, making the mobile gaming experience a quick and easy one.
WiGig Display Dock: $329.99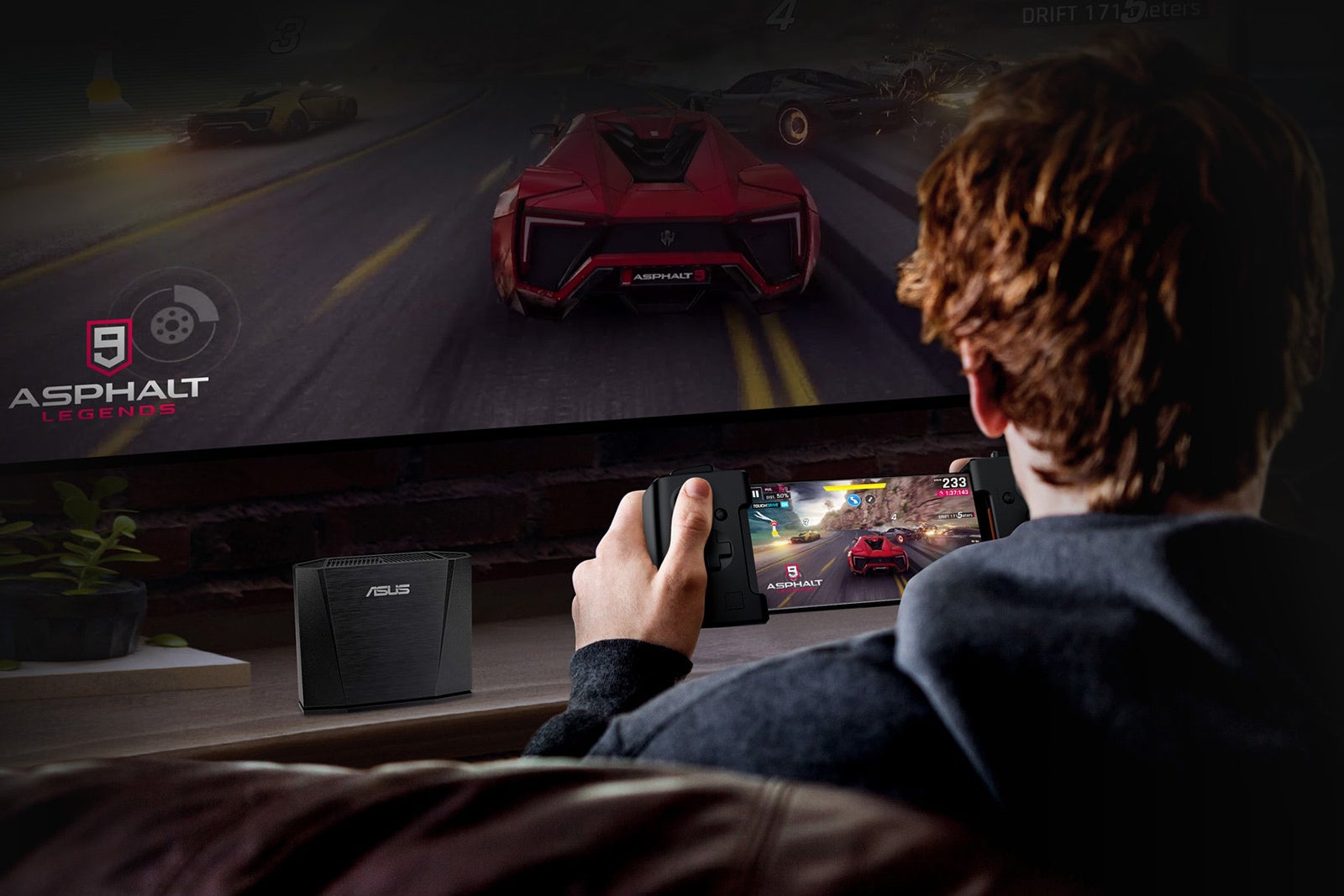 A great pair with the Gamevice controller, the WiGig Display dock further emulates the Nintendo Switch's versatility with its ability to easily connect to a larger screen but does so wirelessly. Using Qualcomm's 802.11ad 6 GHz wireless technology, the WiGig Dock can achieve latency as low as 20 milliseconds, or in other words, nearly imperceptible.
Connectivity
The ROG Phone may have a lot to connect to for gaming, but when it comes to cellular capability it's a mixed bag. On one hand, you get dual-SIM compatibility, while on the other, no CDMA support for Sprint, Verizon, or carriers who use their towers. Otherwise you'll find most requisite features for high-end phones, such as Bluetooth 5.0 and dual-band Wi-Fi, but no wireless charging.
Camera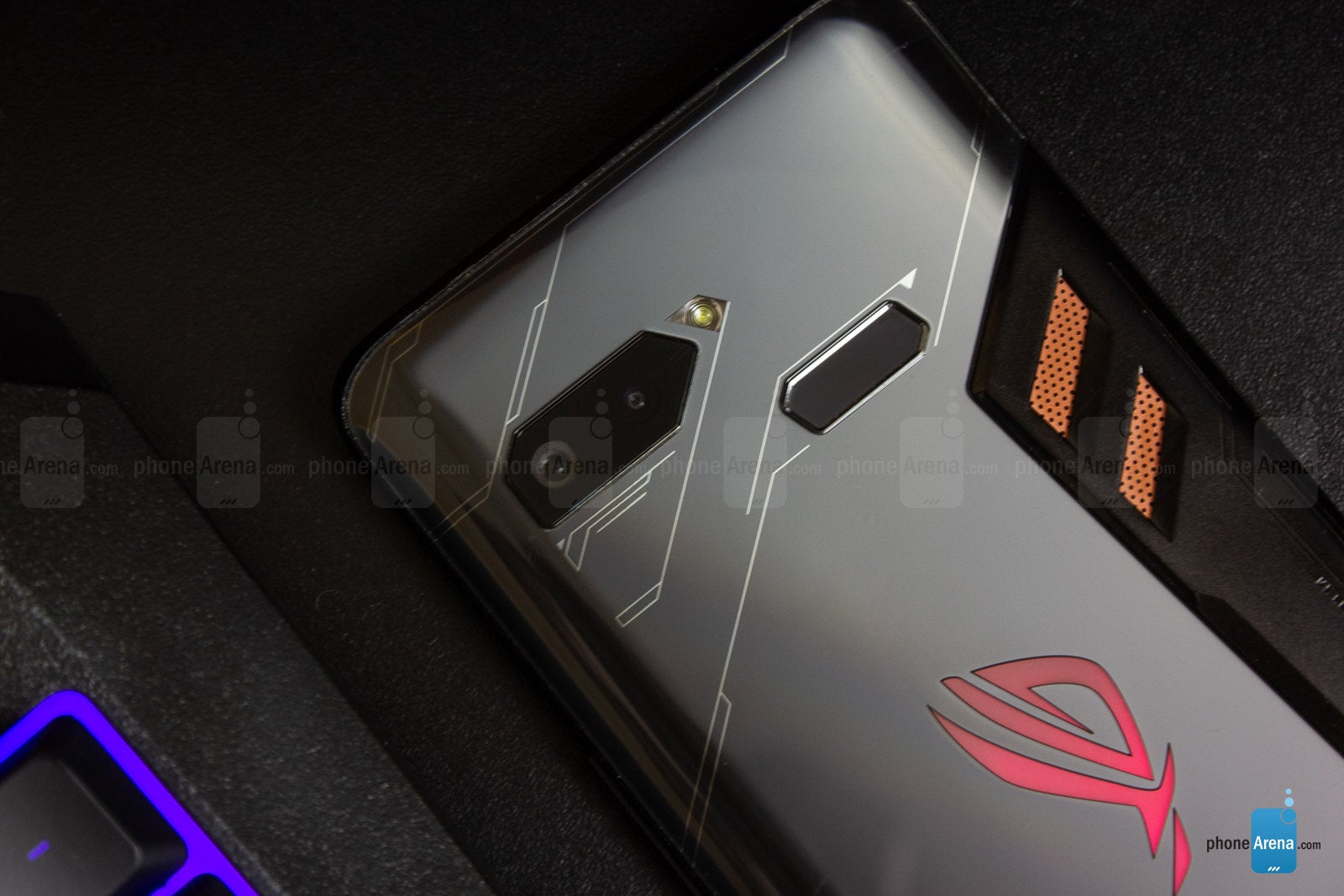 Asus pairs 12 and 8 MP cameras in back of the ROG Phone – one with a regular lens and the other wide-angle – while including an 8 MP front-facer. As we anticipated, nothing too out of the ordinary is introduced feature-wise, but you'll find tricks like portrait mode with adjustable blur, a manual camera mode, and Google Lens integration.
Image Quality
We've been pretty impressed with the photography on recent Asus phones, and thankfully the ROG keeps up that trend. Images captured in well-lit scenes display great detail, accurate colors, and commendable exposure, holding its own quite well against the top shooters in the market.
The same is true for dynamic and low-light scenarios – exposure is impressive, while details and colors are captured well. The only area that can sometimes trail the highest-end camera phones is noise reduction on very low light scenes.
Video Quality
Video can be captured in up to 4K resolution at either 30 or 60 fps, and results, much like those in photography, are very solid. Audio is clear and so is the picture – details are sharp, and colors remain quite accurate, exposing and stabilizing the video well, even though the ROG Phone only offers digital image stabilization.
Call Quality
Calls are a pleasure on the ROG Phone, too. Neither the callers nor recipients had any trouble with receiving calls or hearing them when they came in. The dual-speaker setup also bolsters this phones speakerphone experience.
Multimedia
While we're on the topic, the ROG Phone features two dedicated amplifiers – one for each speaker – and support for 7.1 surround sound. These create a particularly loud, full, and immersive sound experience for video or gaming, but Asus' Audio Wizard is still on board if you desire further EQ tweaking.
Conclusion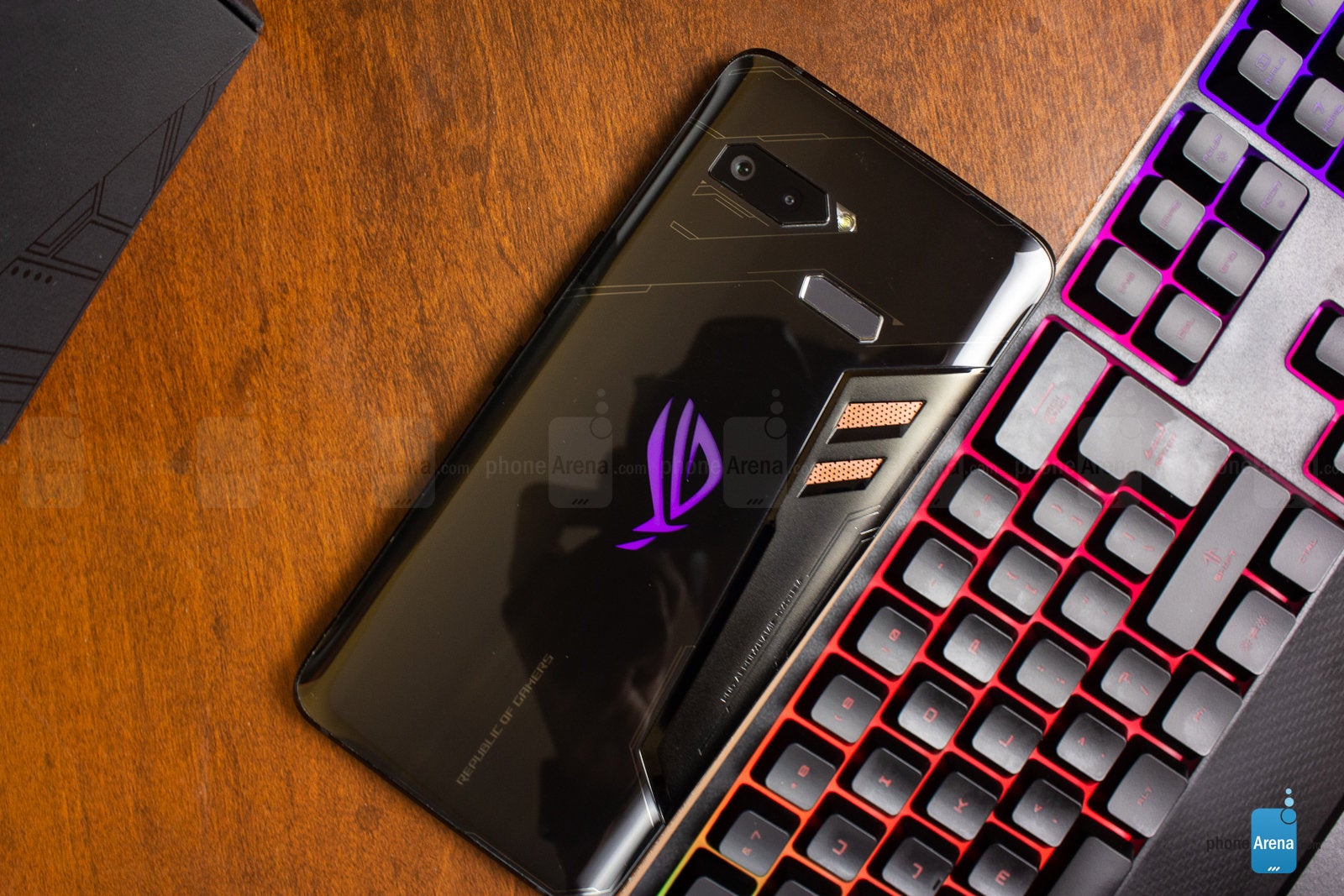 Asus has turned in an excellent phone in the ROG. Being no stranger to what gamers and smartphone buyers want, the company hits all the right notes here. Build quality is top-notch and its aesthetics balance serious looks with serious performance quite well. Internally, we have the best hardware you can currently get on an Android phone and a company that knows how to make the most of it. In fact, Asus couldn't stop making hardware for it and produced a bunch of really neat accessories to go along with the
ROG Phone
. Lastly, we find more of Asus' strong prowess in photography in the ROG, proving that compromises in areas like this aren't necessary to have the best gaming phone on the market.