ASUS ROG Phone II Review: Sweet Overkill
32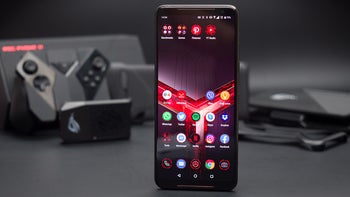 When you hear the term "gaming phone", what are the first associations that come to mind? Over-the-top hardware specs? Glowing multi-colored LEDs? Support for fancy gaming accessories, perhaps? The Asus ROG Phone II comes with all of this, topping the package with a ridiculously large battery and a huge screen running at a buttery-smooth 120Hz refresh rate.
For those who aren't familiar with the brand, ROG stands for "Republic of Gamers". It is a lineup of gear made specifically for gaming – computers, monitors, peripherals, and everything in between. As its name implies, the ROG Phone II is Asus's second-generation gaming smartphone, and I spent two weeks with it to see how it has leveled up.
In the box:
Asus ROG Phone II
Custom protective case
30W wall adapter with USB-C port
USB-C to USB-C cable
AeroActive Cooler with footstand and two spare rubber caps
SIM ejector tool
User manual and warranty information
Design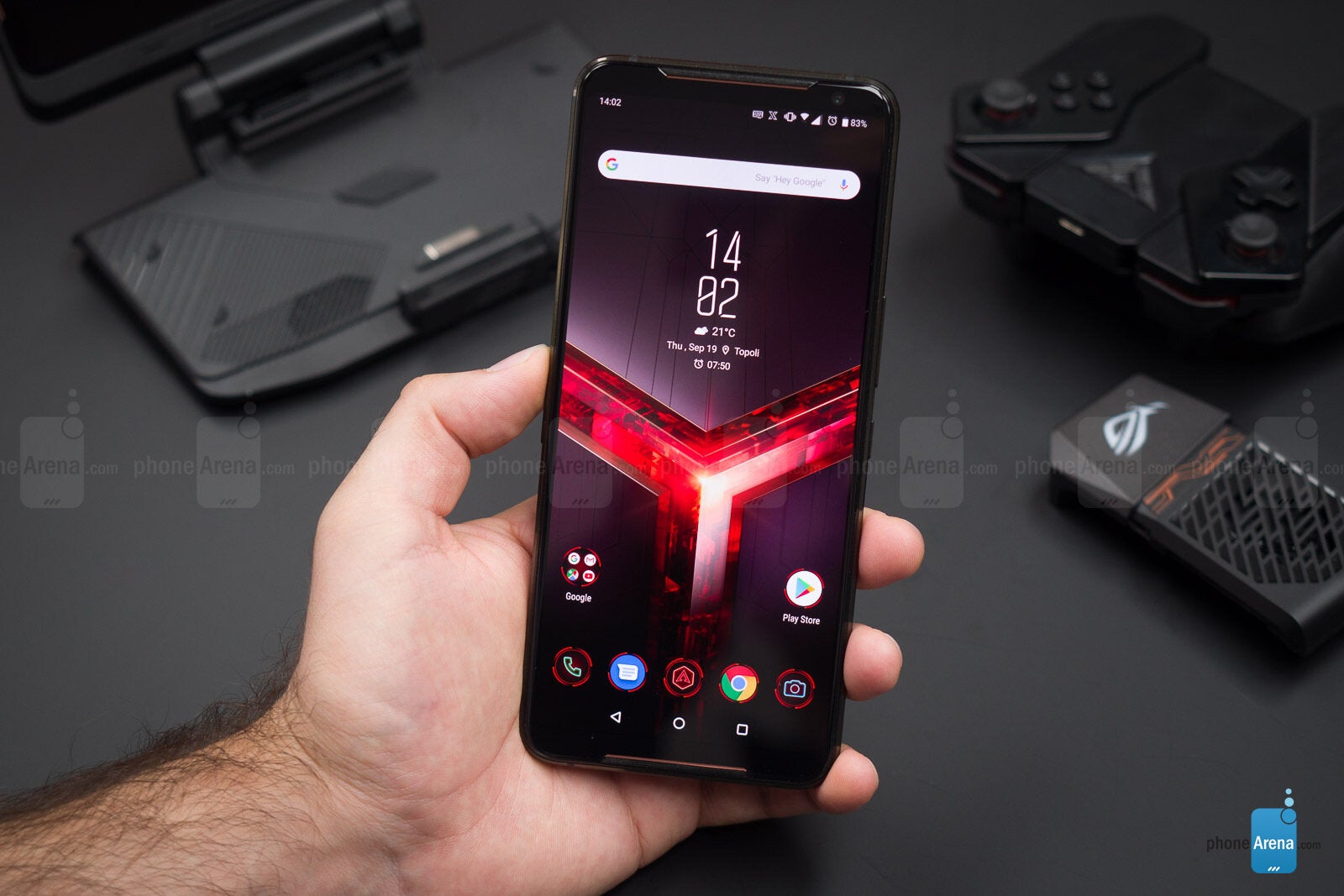 The Asus ROG Phone II is clearly an enthusiast phone. Just like its predecessor, it looks as if it came out of a technocratic sci-fi movie – and its a look you'll either like or not. Some of my friends genuinely loved it when I showed it to them, while others found its design a bit overdone.
What every single one of them pointed out was that the ROG Phone II is super bulky. Indeed, it is one of the largest and heaviest phones we've reviewed, and it barely fits in regular pockets.
On the bottom of the Asus ROG Phone II you'll find a 3.5mm headphone jack and a USB-C port for charging. On the side, under a protective rubber cap, is a special port used for connecting accessories such as the AeroActive Cooler – practically a snap-on fan that actively cools the phone. On the front we find a pair of wonderful speakers producing loud, clear stereo sound.
There is an optical fingerprint reader built into the display of the phone. It works, but it isn't as reliable as traditional fingerprint readers – something we've been saying too often lately.
The ROG logo at the back lights up and gently fades through different colors, as long as you have the high-performance X-Mode enabled. It can also double as a notification light or pulse to the rhythm of music that's playing – features that are cool but also distracting, in my opinion. The option to enable these features is in the pre-loaded Armoury Crate app. There's also a dedicated LED notification light at the front.
Unfortunately, the ASUS ROG Phone II doesn't have a water-resistance rating like some other high-end phones do. What it does offer is protection in the form of a free plastic frame case in the box.
Display
At 6.6 inches, the Asus ROG Phone II offers one of the largest screens on a phone today. It's an OLED panel with resolution of 1080 x 2340 pixels. Sure, the numbers don't sound impressive, but the choice to stick with "just" a 1080p screen could be to allow games to run at higher framerates. There are no notches or cutouts eating away screen space – something gamers would appreciate.
They'd also appreciate the 120Hz refresh rate of the display. The great majority of smartphones today run at a traditional 60Hz which is perfectly fine for practically any user, but an even higher refresh rate makes movement appear smoother and allows for framerates above 60fps to be displayed. This is a feature many popular high-end phones, including the newest iPhone and Samsung Galaxy models, still lack.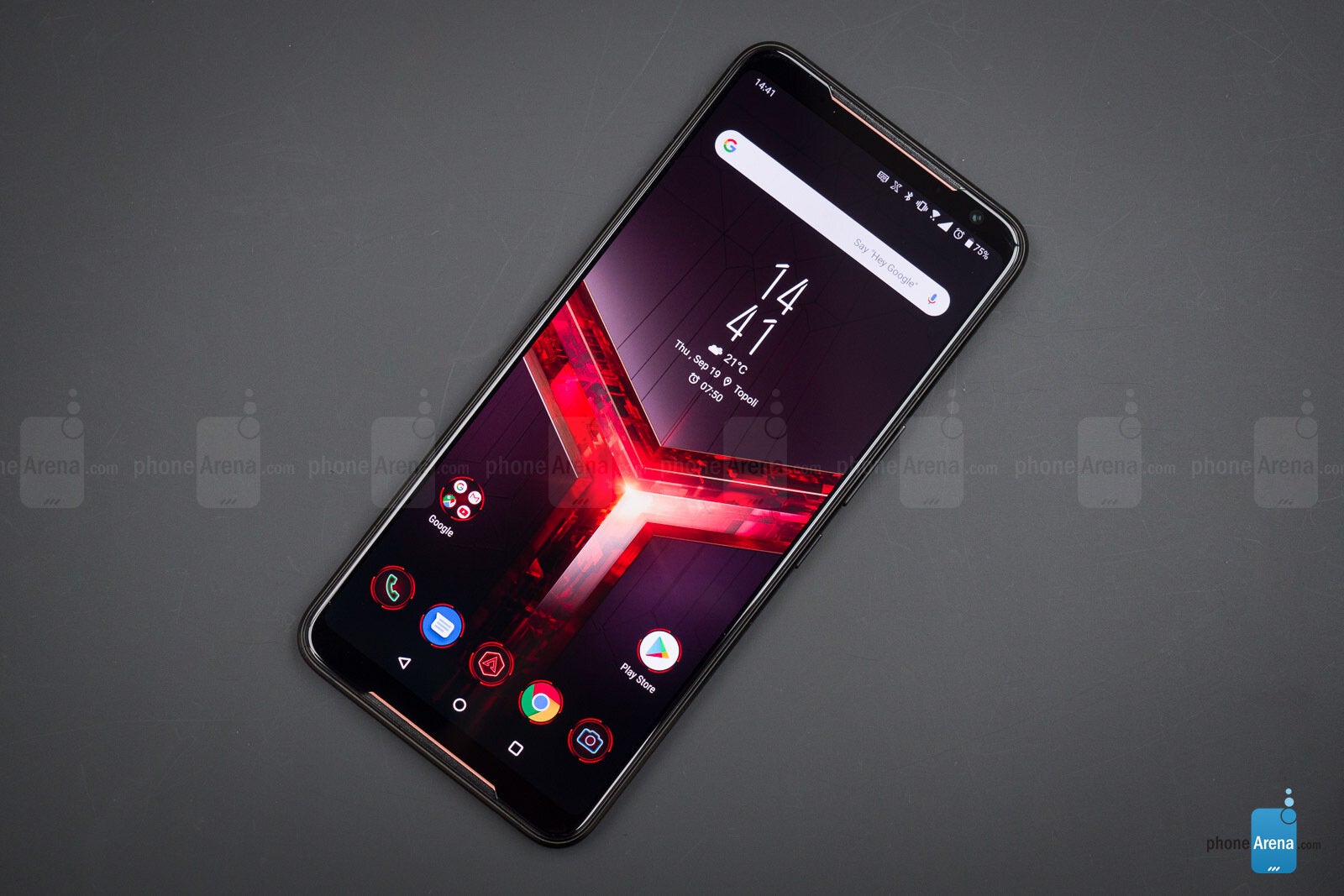 However, a higher screen refresh rate consumes a bit more battery life, so there are 90Hz and 60Hz options as well. You may also configure the screen refresh rate setting on a per-game basis – which makes sense since not all games can take advantage of a 120Hz refresh rate.
Asus also points out that the display on the ROG Phone II has a 240Hz sampling rate – how many times per second the screen checks for touch input, basically. This is a feature meant to improve touch response.
One drawback I have to point out is that the screen doesn't get very dim in the dark. Even at minimum brightness, the screen puts a lot of strain on my eyes when I read or watch YouTube videos before bedtime. Outdoor visibility is generally pretty good, though there's a weird glare under certain angles.
Display measurements and quality
Software and interface
The Asus ROG Phone II runs Android 9.0 Pie, and you may pick between three different interfaces. Two of them, themed around the ROG branding, are bright and flashy, while the third, classic theme is clean and unobtrusive.
No matter which interface you pick, you'll have access to features like a dark theme, Google's Digital Wellbeing, an always-on display, a screen recorder, and a phone-call recorder. By default, the phone presents you with classic on-screen buttons for navigation, but you can replace them with Android's navigation gestures or Asus's own gesture navigation approach. The latter uses a swipe on either edge for Back, a swipe from the bottom for Home, and a swipe-and-hold gesture from the bottom to display recent apps.
Armoury Crate is a pre-loaded app by Asus where your game collection is organized. It is also where you access advanced gaming and performance settings. For example, you can choose the refresh rate at which a game runs, set whether it should prioritize performance or battery life, enable antialising and modify input controls.
Game Genie is another handy gaming tool Asus has thrown in. Swiping in from the left edge of the screen displays the Game Genie menu, allowing you to lock the screen brightness, disable notifications, record your screen, or start a livestream via Twitch or YouTube. It also lets you configure macros and AirTriggers.
AirTriggers are force-sensitive shoulder buttons positioned on the right edge of the phone. Pressing on one of them will simulate a tap at a point on the screen that you choose. In other words, they act as shortcuts to existing on-screen buttons. I used AirTriggers in PUBG to aim and shoot more precisely and they were so good it almost felt like cheating!
Performance

The Asus ROG Phone II is practically the fastest Android phone right now. It is equipped with an overclocked Snapdragon 855+ chip along with 12GB of RAM. Unsurprisingly, any game runs perfectly fine on it – at up to 120fps if you have the 120Hz display refresh rate enabled! With all that RAM, it is not uncommon to launch a game and see that it is still loaded in memory, in the state you left it the day before. There is no microSD card slot on this phone but with either 512GB or 1TB of built-in storage, who needs one?




The AeroActive Cooler which I mentioned earlier is an accessory meant to help with dissipating heat. This is supposed to cool down the phone and help it sustain high performance for longer, but personally, I couldn't see any difference in games or in benchmark tests. The phone does get quite hot under heavy load and might get uncomfortable to hold at times.
Camera
On the back of the Asus ROG Phone II is a dual-camera setup comprised of a 48MP main cam and a secondary, 13MP super wide-angle camera. The main camera takes 12MP images by default, shoots 4K video at up to 60fps, and has a Night Mode which improves low-light image quality as long as you don't mind keeping the phone still for a couple of seconds.
Image quality is good overall. It isn't great, but it is definitely good enough for most people. There's an automatic HDR mode that enhances highlights and shadows at the cost of a few moments of processing time. Zooming in digitally disables HDR for some reason. Colors are neutral and generally accurate, but the white balance tends to struggle in low light. Surprisingly, details look a bit smudgy if you zoom in on the picture.
The super wide-angle lens can be very useful in certain situations, but as all other lenses of this kind, it does introduce some distortion near the edges. It is also less sensitive to light which is why its low-light images look a bit more fuzzy.
Battery life and charging

6000mAh – that's the amount of charge the Asus ROG Phone II can hold. To put this figure into context, the Samsung Galaxy Note 10+ has a 4300mAh battery and the OnePlus 7 Pro holds 4000mAh worth of charge. The phone delivered a result of over 14 hours on our custom battery test, which makes it one of the longest-lasting phones we've tested. This result was achieved at a 60Hz display refresh rate. At 120Hz, the phone lasted 20 minutes less.

Battery life while gaming, however, could have been better. Depending on what you're playing, the phone can lose from as little as a 8% to as much as 25% of charge per hour of gaming. That's with X-Mode and LED light effects enabled. But if it is used as a normal phone, the ROG Phone II easily lasts 2 days between charges.

The 30W charger provided with the Asus ROG Phone II charges the phone at up to 25W. The other 5W are reserved for powering accessories. A full charge requires 102 minutes, which is not bad at all given the capacity of the battery cell. If you just want to give the phone a quick power boost, 30 minutes on the charger take the battery from 0 to 40%.


Conclusion
It is clear that Asus has made the ROG Phone II with passion and desire to please a growing demographic of gamers – people who see gaming as a lifestyle, not just as a fun way to spend their spare time. And the result is one ridiculous phone – in every positive sense of the word. It has both the hardware and software to give you the upper hand over your online opponents – while still being a good Android smartphone overall.
Of course, you don't have to be a hardcore gamer to be interested in an Asus ROG Phone II. It would also be a good pick if you need a phone with great battery life and a quality display – as long as you don't mind the heft, of course.
Currently, the Asus ROG Phone II is available for pre-order in the US priced at $900. Indeed, it is an expensive phone, but it costs about as much as most equally powerful Android handsets. For about the same amount of money, you should be able to grab a Galaxy S10+ which is a more balanced phone with better cameras and broader carrier compatibility.