New York tops the US carrier performance charts, see where your big city ranks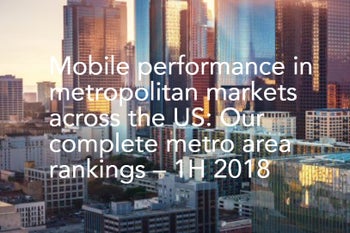 Hot on the heels of several
reports
about the network performance of the big US carriers in the first half of the year now comes a more specialized one, the all-important mobile performance in metropolitan markets. Verizon scored best in 101 out of the 125 large cities that were tested, but there is more to the report than individual carrier metrics.
Needless to say, the largest cities in the US don't provide the top speeds that carriers are capable of due to the sheer number of sloths on the branch. Chicago topped the charts in terms of speed and performance, but NYC and the Tri-state area grabbed the overall top score, followed by LA. The worst performer was Boston, while Philadelphia and Washington D.C. notched the largest improvement in scores.
The methodology of RootMetrics consists of driving around and taking both indoor and outdoor measurements with off-the-shelf smartphones like the
Galaxy S9
that support the latest available network technologies and speed limits. To that, it adds weighing the report results against the number of subscribers in a given area, so an average performance for the 18 million people in the Tri-state area counts similar to great performance in a more scarcely populated region, hence the NYC top.