Samsung's extra-sporty Galaxy Watch Active 2 Under Armour Edition is finally up for sale
2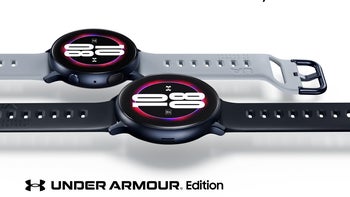 The
Apple Watch Series 5
has a
Nike edition available in the US
since last Friday, the age-old Fitbit Ionic also comes in an
Adidas-branded variant
, Puma surprisingly unveiled its
very own smartwatch last month
(with a little help from Fossil), and now you can finally buy the impossibly named Galaxy Watch Active 2 Under Armour Edition stateside.
In case you're wondering, no, you won't be paying 30 extra bucks just for a logo. In fact, the UA name is only discreetly imprinted on the fluoroelastomer strap of the aluminum-made wearable device. Instead, the price hike is mostly justified by the expansion of the already impressive built-in coaching tools of the fitness-centric smartwatch. You also get a free 6-month MapMyRun Premium subscription for access to professional training plans aiming to constantly push you to improve your routine and achieve greater and greater goals.
Your always-on running coach will try to make sure you maintain your pace and stay motivated throughout your training sessions, especially if you pair the smartwatch with Samsung's
Galaxy Buds
, in which case you'll also get audio cues on how to "continue on the path to conquering your fitness goals."
Naturally, the rest of the specs and features are unchanged, including standalone GPS connectivity, a built-in heart rate monitor, a dual-core Exynos 9110 processor, top-notch water resistance, and a beautiful Super AMOLED display measuring either 1.2 or 1.4 inches in diagonal. It's also worth pointing out that both the 40 and 44mm Galaxy Watch Active 2 Under Armour Editions come with "Aqua Black" cases, but only the latter sports a matching black strap, while the former is available in combination with a gray band.