'Elite' crew of OnePlus 6T closed beta testers wanted to provide valuable feedback
1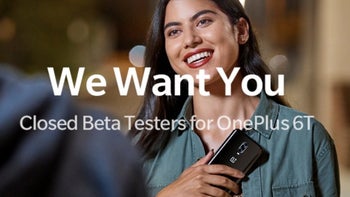 OnePlus has a very passionate online community and fanbase, as proven by the high attendance figures of the company's pop-up events and the popularity of those frequent
OxygenOS open beta updates
.

That's not the only requirement, however, as the company also needs you to be an "active" member of the OnePlus Community. Last but certainly not least, the ideal applicants will have to "constantly communicate and provide feedback to the OnePlus team on Slack."

That means you'll be able to directly communicate with key members of the OnePlus staff, which sounds like the greatest perk of them all. Well, that and the chance to try out new software builds and features weeks or "even months before they are released to the public."

Unfortunately, even if your feedback proves fundamental to finding "major bugs at an early stage" in the testing process, as well as "refining or revising" the OnePlus product strategy, you will remain an unsung hero unable to claim your contribution, as the final Closed Beta registration requirement is accepting to sign an NDA (Non-Disclosure Agreement).

It sounds like OnePlus wants to nip any leaking possibilities in the bud, which only makes this thing more exciting. Any OnePlus 6T owners/active community members looking to enroll?