Moto Z3 Play goes down to all-time low price of $300 with promo code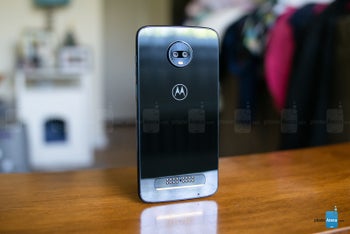 One of the main reasons why last year's
Moto Z3 Play
didn't exactly earn rave reviews was its somewhat exaggerated price. Initially available for $499 unlocked, the modular 6-incher came with a middling Snapdragon 636 processor, not-so-stellar 3,000 mAh battery, and a love-or-hate side-mounted fingerprint scanner.
But now that you can purchase the phone at $299.99 (no strings attached), it's practically impossible to focus on anything other than the strengths of the
Moto Z3 Play
. We're talking pretty impressive bang for your buck here, including very capable 12 + 5MP rear-facing cameras, a more than respectable Full HD AMOLED display with relatively thin bezels, and a decent 4 gigs of RAM paired with 32GB internal storage space.

Technically, there's no rush, as the Z3 Play deal is set to run all week, i.e. until February 2, both online and offline, but obviously, supplies are limited. You can currently apply your individual coupon code at Frys.com before checking out or visit one of the retailer's 34 brick and mortar locations nationwide and talk to a sales rep about scoring the special $100 discount.

Otherwise, you'll end up paying an already marked-down $399.99 that other sellers, including Motorola, Best Buy, and B&H Photo Video, are currently charging.
Compatible with the full range of functionality-expanding
Moto Mods
(apart from the 5G-enabling accessory), the
Moto Z3
Play includes a Moto Power Pack mod in the box that ups the standard battery life ante to an estimated 40 hours between charges.

Naturally, the phone has an Android 9.0 Pie update in the pipeline as well, not to mention how crazy thin and classically stylish it is. Incredible overall bargain for 300 bucks, don't you think?