Interested in streaming? Start broadcasting from your phone with this three-step guide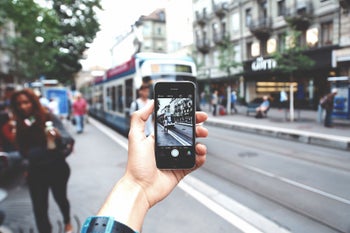 People gaming, people drawing, people sitting on a chair, streaming is everywhere around these days. One of the most popular streaming genres is the so-called IRL. Meaning "in real life", IRL streams are mostly about people's daily lives, their stories and experiences. If you want to show the world how you mow your lawn or just want to give viewers a tour of your city, you don't necessarily need expensive equipment, your phone and a couple of accessories is all you need for а decent stream.
1. What device to use?
You don't have to be smartphone engineer to figure out that the high-end devices will be the best ones to stream from. Besides the good camera, you'll need a fast 4G connection (assuming you'll wander beyond the reaches of your Wi-Fi) and a good CPU-GPU combo that can handle the load without frying itself. Obviously, some of the current best choices are the
iPhone X
,
Samsung Galaxy S9
,
Pixel XL 2
and
LG G7
. You won't be able to benefit from multiple camera setups, but optical stabilization and quick auto-focus are things you should look for.
Don't be discouraged if you don't have the latest flagship device, for amateur needs most mid-tier smartphones will be capable of handling the task with some minor sacrifices here and there.
So, you have your weapon of choice, what's next?
2. What app to stream on?
You can have a hard time deciding where to stream, not due to a lack of options, but because there are so many of them. The choice of streaming app will most likely depend on your target audience and preferred content. For the most part apps don't restrict what type of stream you can have (obviously explicit and copyrighted content is a no-go), but there are some nuances that we noticed among them. Here are some of the most popular apps that you can live-stream on:
If you want to share an activity with your friends and it's more of an occasional event rather than something you plan on doing regularly, then Facebook is the way to go.
Everyone has a YouTube account, but if you have a channel dedicated to your hobby and want to stream to your fellow enthusiasts, then go live on YouTube and your subscribers will quickly be able to join you. This feature is only available for channels with more than 100 subscribers. If you're a YouTube partner, you can monetize your streams with ads.
The grandfather of streaming. Twitch is best known for its gaming streams but ever since they added an IRL section, it gave a big boost to that type of content all over the internet. While this is the most popular place to stream, unless you plan to take streaming to a professional level, we suggest you stick to some of the more casual apps.
Mixer is Microsoft's horse in the streaming race. The regular Mixer app is just for watching streams, if you want to be on the other side of things you'll need Mixer Create. The Mixer platform is known for being lightweight and easy to use but is still far from mainstream.
Twitter has its share of the streaming world through that app, so it has good cross-platform integration that can be useful if you have a lot of followers. Catering more to the outdoorsy types, Periscope is more about sharing adventures and experiences.
Streams on YouNow are mostly of the casual indoor variety. The app seems to be used more to hang out and connect with people rather than exploring new places.
Most applications have the ability to automatically adjust your output to keep you live as long as possible, but for more information Twitch has a handy breakdown of different
resolutions, framerates and required bandwidth
for each. While specifics will vary wildly depending on the app you use, it gives a good idea of what quality you can expect based on internet speed and device capabilities. Keep in mind that for streaming the important number is the upload speed of your connection.
3. Additional hardware
Now that you have your device of choice and the platform to stream on, you're pretty much set to go. Depending on your commitment level, there is some additional equipment you can use to improve the quality of your stream and make it more enjoyable for your audience.
Selfie stick
No need to explain what that is. If you're going to focus the stream on yourself, it will help get more of your surroundings into frame when visiting an interesting place. Just avoid fully extending it since it can be annoying in crowded areas.

Gimble
This is a device that provides active stabilization for your phone or camera. There are options for all budgets and the ones
meant for smartphones
can be used with pretty much all models. Some gimbles are a bit heavy and can tire your arms faster if you plan on streaming for a longer period of time. One the plus side, stabilized video is more pleasing to watch, and you'll be able to keep more eyes on your stream.
External battery is a must if you're planning to leave your house. Even if you're not planning to stream long enough to drain your phone, you should always have back-up power in your backpack.

External microphone
The microphones on your phone are likely to pick a lot of random noises around you and are very susceptible to wind interference. Using the microphone on your headphones will be an improvement, but for best results you should get a dedicated microphone with a windscreen (those furry things they put on microphones). If your phone doesn't have a headphone jack you'll have to use a dongle.

Extra light
Planning on streaming at night? You'll need some extra lighting. A good choice comes in the form of smartphone cases with LED lights, but there will be a significant decrease in battery life if they are connected to your phone. If your stream is from your point of view you can go for a powerful headlamp.

Back-up internet connection
You can't stream unless you have an internet connection, so if you want to avoid downtime, there are solutions that combine multiple sources, so you can seamlessly switch between them when in need.

The easiest solution is to have a smartphone with two SIM cards from different carriers, so you can change between both depending on coverage. Another option comes from apps like Speedify. It allows you to combine multiple connections. You can have a second phone set up as a Wi-Fi hotspot and connect your main device to it. Of course, your phone can switch between the two on its own, but that's usually slower and can lead to disconnects. With an app, you can set a minimum bandwidth and it will make sure you always have it.

Now all that's left is to decide what is the content that you want to provide to your viewers. While the streaming scene is very saturated as is, there's always room for one more, just don't forget to enjoy yourself.