DJI Osmo Mobile vs Feiyu-Tech SPG vs Zhiyun Smooth 3: smartphone gimbals
6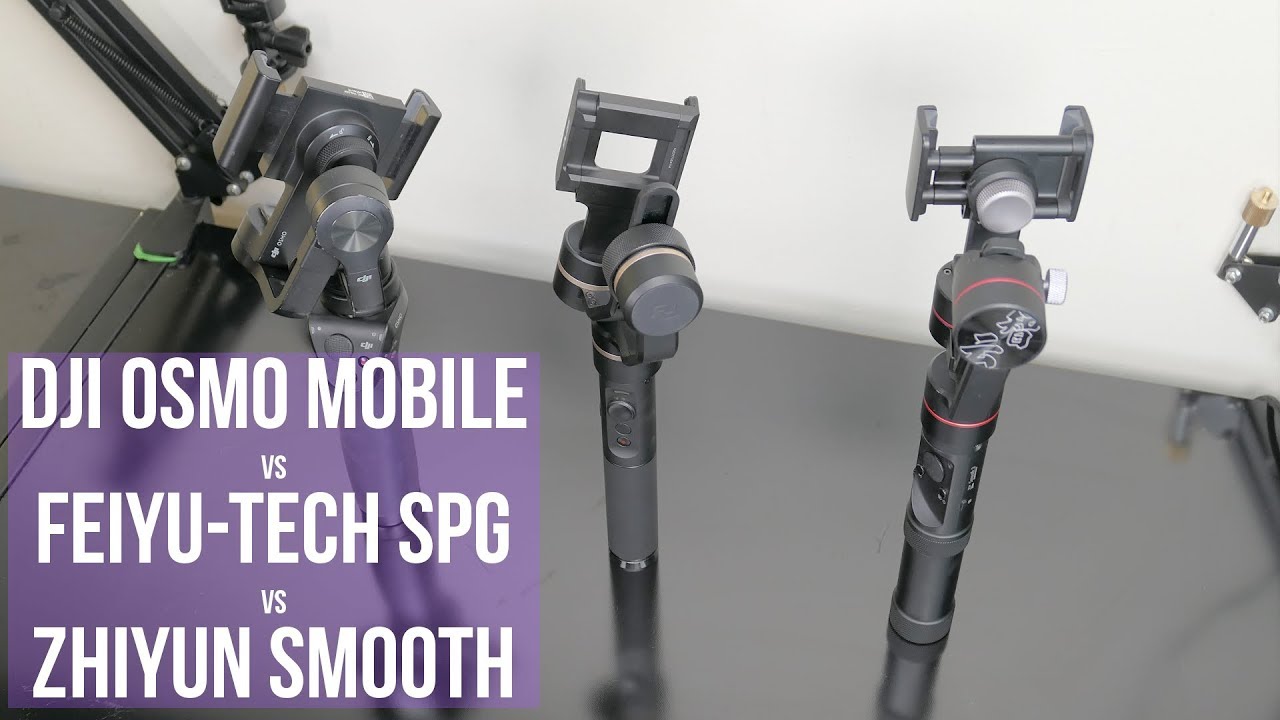 Optical image stabilization, OIS for short, has done wonders for smartphone cameras. Once regarded as a luxury amongst few camera-centric phones, it has gone on to become prevalent throughout the range. And nowadays, it's almost unfathomable for any high-end device to lack it – so it's just that commonplace, which is amazing to say the least.
They've proven their worth, obviously, as they've been able to stabilize otherwise shaky looking video footage that would almost certainly make them unusable for professional use. While OIS has been touted by some manufactures to deliver that "walking-on-air" look, it's still not without some flaws. That's probably why we've been seeing more and more of these handheld smartphone stabilizer gimbals in the last couple of years.
Smartphone gimbals takes stabilization to the next level, by truly delivering that "floating" like effect with almost all sorts of movements. Making them even more versatile, they're armed with a variety of stabilizing modes to really give smartphones more of that cinematic quality. Then again, there's a hefty cost associated in owning them, but they've shown how much better they are than just simply relying on the built-in OIS.
We've been taking a few smartphone gimbals for a spin recently, and thought it'd be a great idea to provide you some of our insights about them. For this comparison, we have the $300 DJI Osmo Mobile, $300 Zhiyun Smooth 3, and the $159 Feiyu-Tech SPG. Some of you might be wondering how the lower priced Feiyu-Tech SPG might compare against the other two more notable smartphone gimbals in the space, so we're going to pit the three together to find out exactly how they all stack up!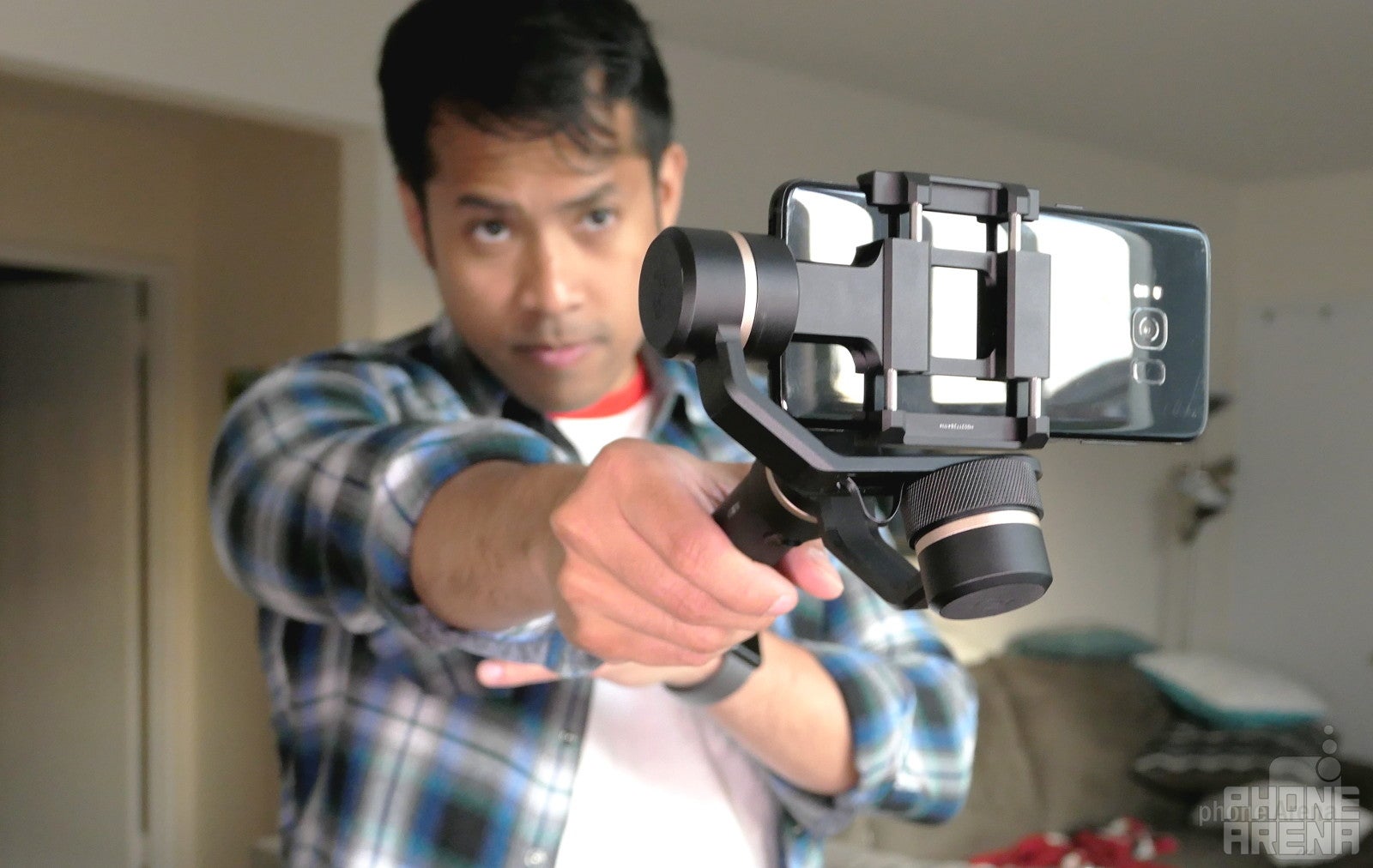 Feiyu-Tech SPG
Design
For the most part, all three follow the same basic design foundations of what makes up a smartphone gimbal stabilizer. But while they all follow the same principals for the most part, like their handles and adjustable counterbalances, there are pros and cons in how each of the three are designed.
Aesthetically speaking, the DJI Osmo Mobile seems like it's something from the cockpit a high-flying rocket powered aircraft – it looks amazing and feels superb, more ergonomic than the others. While we love its design the most, it lacks a ¼-inch mount on its underside that would users to attach it to a tripod, monopod, or even selfie stick of some kind for extension.
The Zhiyun Smooth 3 sports the most versatile design on the bunch, offering features like a sturdy aluminum frame, real-time charging of your device via the microUSB port on its arm, and more counter balance adjustments. Due to that aluminum frame, though, it's the heaviest of the three gimbals at 440 grams.
Basic, that's what best describes the Feiyu-Tech SPG. Even though it lacks the ergonomics of the DJI Osmo Mobile and substantial build quality of the Zhiyun Smooth 3, the SPG wins in being the most travel-friendly – thanks in part to its considerably compact size. In addition to the two ¼-inch mounts on its handle, which allows it to be attached vertically or horizontally, its design is the only one that's splash-proof.
Setup
Generally speaking, it's a breeze getting all three gimbals set up, just because it doesn't require a ton of fine adjustments that are usually necessary with standard camera gimbals. All that's needed is to attach the smartphone into their respective cradles, adjust the counterbalance so that they're level for the most part, and then proceed to turn them on. After that, the gimbals quickly calibrate themselves to so that the phones are level.
The main component from all three gimbals that requires the most fine-tuning is the roll angle, which is easily adjusted by loosening the respective knobs and lengthening the arm so that the phone is somewhat level. Out of the bunch, though, it's only the Zhiyun Smooth 3 that allows for pitch adjustments, seeing that cradle on the arm can be adjusted up/down – delivering more balance, which in turn takes a little bit of the stress away from the motors.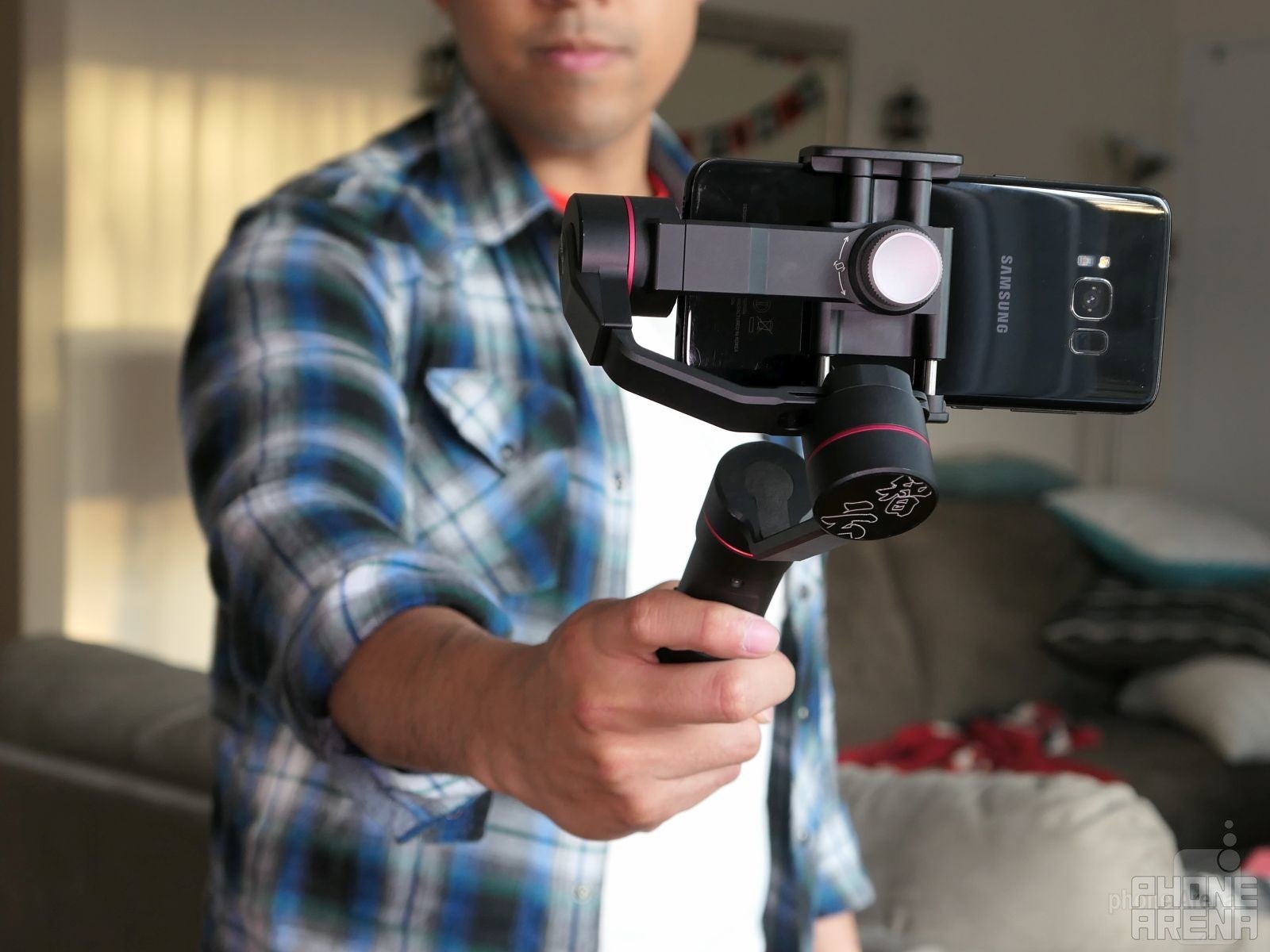 Zhiyun Smooth 3
Payload
From small, medium, to extra-large sized smartphones, these gimbals are more than generous in accommodating them all – including those wide ones. They're able to fasten pretty much most of the current flagships around, like the LG V30, Samsung Galaxy S8, and Apple iPhone 8 Plus. Accommodating these various sized smartphones might not be an issue with any of the gimbals, there's just so much payload they can support before failing.
Without any sort of cases or additional accessories, they're all capable of easily accommodating the weight of the LG V30. Pushing the limit even more, we decided to use add on a simple protective case and a Rode VideoMic Me to the V30 – still no issues from any of the gimbals trying to handle it. However, it wasn't until we added on a wide-angle lens attachment that we realized which one offered the best payload support.
That goes to the Zhiyun Smooth 3, which surprised us by being able to support the weight of the phone and all the accessories. Even though it offers the best payload support out of the bunch, we could tell that the motors were really straining to ensure that the entire thing was steady – so we wouldn't suggest trying to do this.
Modes
Gimbals have a unique look that sets them apart from handheld footage, you can tell based on its fluid movements. That's partly due to the various modes offered by them, and in this case, it's pretty much the same from all three gimbals. Specifically, they all break down to the following:
Panning mode: This is best used for following a subject without adjusting the pitch or roll, as the gimbals are able to pan left/right, but the pitch and role remain fixed. It's the default mode with the Zhiyun Smooth 3 and Feiyu-Tech SPG when you turn them on, but it's strangely absent with the DJI Osmo Mobile. In order to access this mode, you'll need to run the Osmo Mobile app and enable the "pitch lock."
Lock mode: Keeping a fixed position can easily be achieved by using the lock mode. Both the DJI Osmo Mobile and Feiyu-Tech SPG have triggers that rest underneath our index finger, allowing us to quickly locked their positions in place. It's intuitive just because it can quickly be initiated in any mode by just pressing on that trigger, whereas with the Zhiyun Smooth 3, you can have to press a button a couple of time to cycle into the mode.
Follow mode: In follow mode, the gimbals will adjust the pitch, roll, and panning accordingly to follow the direction you're pointing the gimbals at. This is especially useful when you're tracking something that's moving in random directions, since follow mode does a nice job in quickly adapting. This is the default mode for the DJI Osmo Mobile, while the other two gimbals require you to press their mode changing buttons to cycle to it.
Trying out all the different modes, we have to admit that the Feiyu-Tech offers the most logical implementation. In addition to its panning and follow modes, the lock mode can be initiated at any time by pressing its dedicated trigger. Moreover, we appreciate how it can rotate a full 180-degrees by triple tapping the mode change button, as well as a resetting the orientation back to default by quadruple pressing on the button.
Recommended Stories