The LG V35 ThinQ just received its regulatory certifications in the US & Russia
3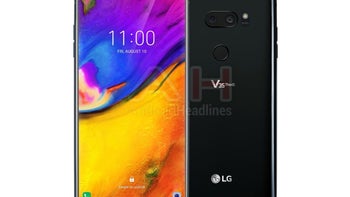 The LG V35 ThinQ has received its regulatory certifications in both the US and Russia. The existence of the upcoming LG V30 variant was
first revealed last month
, with more recent information going on to confirm its design and the fact that it will be the exclusive LG offering that is
coming to AT&T this summer
. And, indicative of the smartphone's nearing launch, the LG V35 ThinQ has now visited both the FCC and the EEC.

Going by the model number "LM-V350EM," the upcoming smartphone's FCC listing in the US shows that it will support a number of 2G, 3G, and 4G LTE bands, just like most 2018 smartphones. In addition, NFC support is also confirmed to be present alongside wireless charging tech. Regarding the Russian EEC certificate, no device details are revealed other than the model name, but it certainly suggests that the smartphone will not be a US exclusive.
Until now, it was understood that LG was developing the device for AT&T's customers specifically as an alternative to the recently-launched
LG G7 ThinQ
which the carrier
chose not to launch
. Because of this, and the fact that the company recently released the
LG V30S ThinQ
, the V35 ThinQ was understood to be a US-market exclusive. However, it now appears LG has some international plans for the smartphone, suggesting the brand could be preparing for a later-than-usual LG V40 launch. If this is the case it wouldn't exactly be surprising – the company has confirmed that it will introduce new products when it deems them necessary and will also extend product cycles by introducing different variants.

LG is yet to announce the device officially or reveal any details in regards to its release date but, in terms of specifications, the LG V35 ThinQ is expected to boast a 6-inch OLED display with an 18:9 aspect ratio. Additionally, Qualcomm's Snapdragon 845 could be present alongside 6GB of RAM.