These deeply discounted Lenovo Smart Clock and Smart Displays are great Echo Show alternatives
2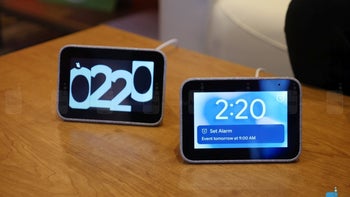 Amazon is still by far the world's
most popular smart speaker vendor
, but if you're looking for an affordable alternative to the "regular" Echo, Echo Dot, Echo Show, or Echo Show 5,
Google
and Lenovo have a few options on sale at great discounts right now.
Technically, it's actually Best Buy that currently charges $49.99 instead of $79.99 for a hot new Lenovo Smart Clock, while the 8 and 10-inch Lenovo Smart Displays can be purchased from the same retailer at $89.99 and $139.99 respectively, down from $199.99 and $249.99 list prices.
Naturally, all three devices come equipped with Google Assistant functionality, supporting hands-free voice commands for everything from music streaming to setting alarms and reminders, answering various questions by searching for stuff online, and controlling compatible smart home accessories.
Commercially released
just a couple of months ago after an
announcement at CES 2019
way back in January, the super-compact Lenovo Smart Clock previously
scored a $20 discount at Walmart
, which means $49.99 is a new all-time low price for this direct
Echo Show 5
contender. Keep in mind that the Smart Clock actually sports a smaller 4-inch touchscreen and less powerful 3W speaker, as well as no camera. Then again, Amazon's tiniest smart speaker with a display still costs $89.99.
Meanwhile, it pretty much goes without saying that the Lenovo Smart Display is a robust alternative to the $230 10-inch Amazon Echo Show at 90 and 140 bucks in 8 and 10-inch sizes respectively.
The larger model also comes with a swankier bamboo backplate, as well as a sharper 1920 x 1200 screen. Both versions are equipped with a 5MP wide angle front camera for hands-free video calling, and their audio capabilities are similar, thanks to a powerful 10W full-range speaker and a pair of passive tweeters. All in all, these are certainly not as premium as the Apple HomePod or Google Home Max, but they can also show you stuff and they're crazy cheap for a limited time.
Check out the deals here
Recommended Stories