iPhone X pushes average selling price of smartphones up even further in Q1 2018
15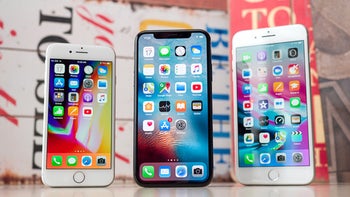 The average selling price of smartphones grew significantly in Q1 2018. Despite a number of reports claiming that demand for premium smartphones was on the decline, a new report by German research group Gfk reveals a significant increase in average selling prices (ASPs) across the globe.
According to the report, the ASP of smartphones across the globe is now heading towards the $400 mark, with Q1 2018 seeing an average price of $374, representing a huge increase of 21% over the first quarter of 2017 when the global ASP sat at $310. Although this growth in pricing is represented as an industry average, it's worth noting that the majority of it came from Apple's iPhone lineup, more specifically the
iPhone X
. The launch of Apple's latest flagship smartphone has propelled the ASP of iPhones to just under $800. For comparison, the ASP of Android phones is much closer to the $200 mark. Even
Samsung
, which competes directly with Apple in the high-end market, recently saw an average selling price of just under $250.

In any case, the importance of this overall ASP increase – and the18% growth in global revenue to $129.8 billion – is highlighted further by a significant decline in smartphone demand during the quarter. Q1 of 2018 is estimated to have seen global sales of just 347 million units, representing a 2% decline year-on-year at a global level, although markets such as Great Britain and Spain saw declines of 11% and 7% respectively, while North American sales also dropped 5% during the period.
Going forward, the smartphone market is expected to remain stagnant due to a point of saturation that it has reached. Thanks to the higher selling prices of devices, though, manufacturers such as
Apple
are expected to remain largely unaffected. When it comes to low-cost brands, however, the drop in demand could ultimately affect their business model significantly – it often relies heavily on strong demand to make up for lower profit margins.