iPhone gets a real-time turn-by-turn navigation and a new Tweetie
1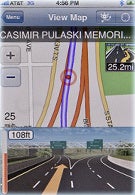 iPhone users cannot complain of a lack of applications for their device. However, what they were missing much was a real-time turn-by-turn navigation software. The developer
XROAD
has decided that this situation is no longer bearable, and has presented all iPhone users with its
G-Map
application. It is fully touch-optimized and offers some nice features as a 3D view once you reach a highway interchange. As every other software, G-Map also has its weak sides. Here, these are the lack of voice navigation and some additional features, such as average speed, distance and time to destination, route specs and so on. It is available through App Store in two versions: U.S. East and U.S. West, each one for $19. XROAD is also planning to release a European version before the end of the month.
While driving, you'll eventually need to stop at a traffic light, and that's where you'll get the opportunity to check what's going down at Twitter, using the new
Tweetie 1.3
, which has now been approved for the iPhone. The application now has a dark theme, various UI tweaks, Tweetshrink, full-size profile image viewing and a number of bug fixes.
source:
KickingTires
and
Gizmodo