Apple's iOS 12.1 update will allow users to adjust bokeh effect while taking a portrait
9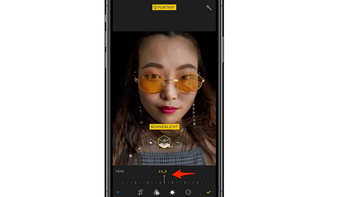 The
Apple iPhone XS
and
Apple iPhone XS Max
allow users to make depth-of-field adjustments to a photo after it has been processed. So if you want the blur in the background of a portrait to be hazier or sharper, that editing can be done after the photo is snapped and posted on the phone's screen. As it turns out, the recently released iOS 12.1 beta includes a feature allowing users to make depth-of-field adjustments while in the process of snapping a portrait.
Here's how it will work. When a picture is being taken in Portrait Mode, a slider will appear on the bottom of the screen that can be used to adjust the depth-of-field as the shot is being taken (see image at the top of this article). It also will allow the photographer to see how different settings impact the picture just before it is snapped. Currently, to make this adjustment, you have to take the photo and tap on the "Edit" button to change the intensity of the bokeh effect on a processed image.
The "Live Focus" feature on the
Samsung Galaxy S9
,
Galaxy S9+
and
Galaxy Note 9
already allows users of those models to adjust the depth-of-field in real time, or after a photo has been processed. The Apple iPhone XS and iPhone XS Max should join the club next month when the final version of iOS 12.1 is disseminated.